Education
Q&A: Managing Your Personal Finances After Graduation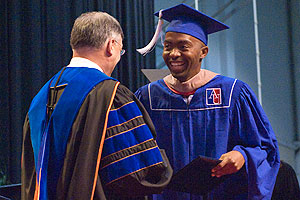 With graduation less than a month away, many American University seniors are starting to seriously plan for their own financial security and saving for the future. Financial literacy is one of the biggest issues facing young adults today.
We went to Executive-in-Residence Mark Waldman for some expert advice on how newly minted graduates can best manage their personal finances.
What is your overall advice to seniors on how to get off on the "right foot" after graduation?
Make a budget and keep to it. Build up an emergency fund, which should include 3 months' living expenses. Make sure you have adequate auto and health insurance, and then start saving for the future. Invest your long term money primarily in stocks.
If a student has loans, how can he or she best manage them while still in school or post-graduation?
The entire student loan program has been taken over by the government, and no one yet knows how this will all play out. I would not try to pay my loans off early, though. It's better to start investing for the future as soon as possible.
What should a recent grad's financial priorities be? 
Build up an emergency fund. 
Make sure you have appropriate auto, health, and life (if needed) insurance. 
Maximize your contributions to any employer-sponsored retirement plan. 
Contribute to a Roth IRA for more long term investing.
In Washington, D.C., how much should a student spend on rent each month?
Try to keep rent 25% (or less) of monthly take-home pay.
How should a recent grad manage his or her credit?
Have one credit card. Pay your balance at the end of each month. To build up your credit rating, carry a balance for a month or two once a year, making only the required minimum payments, and then pay it off.
What kind of benefits – insurance, retirement, etc. – should a job seeker look for and take advantage of?
I wouldn't work for an employer who doesn't have a qualified retirement plan available. Best is someplace where the employer matches some portion of an employee's contribution. Have health insurance, of course. If you're self-employed, then you need to provide these things for yourself.
What is the best way to save for the future?
Whether you are saving for financial independence or a down payment on a home, make saving automatic. Have the money taken from your paycheck or from your bank account electronically each month. Live on the rest. After a while, you won't even miss the money.
Any other advice?
I believe that the best way to invest for the long run, especially for the beginning investor, is in large company dividend-paying stocks. Read "The Single Best Investment," by Martin Weiss, for an introduction to this approach.
Waldman has been taught Personal Finance at Kogod for more than 20 years. He also owns his own investment advisory firm, Waldman Financial Advisors LLC, with his wife. He will be teaching FIN-200, Personal Finance and Financial Institutions, and FIN-201, Applied Personal Finance, in the fall.