On Campus
Pandora Executive Leads Speaker Series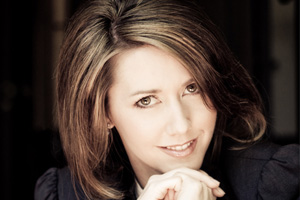 A great turn of phrase. Well-arranged harmonies. A vocalist who can belt out a song.
These are just some of the things Jessica Steel, executive vice president of business and corporate development at Pandora, enjoys about music.
"My dad sings and plays guitar, and he encouraged my sister and I to sing along with him as soon as we could talk," she said. "We grew up with music."
The executive and singer-songwriter will headline this year's Alan Meltzer CEO Leadership Speaker Series Fall event. The series brings top business leaders to campus to provide insight on business issues.
The theme of Kogod's 2011-2012 speaker series is Women and Emerging Platforms. Steel's presentation will be Pandora: Redefining Radio. "We had bold ambitions when we launched Pandora; we believed that the Internet presented an opportunity to redefine radio by introducing personalization into the user experience," she explained.
A member of the original management team, Steel joined Pandora in 2004, when it was still known as Savage Beast Technologies. She described the move as very bold, but ultimately one of the best decisions she's ever made: "Six years later, Pandora continues to grow."
"It gave me the opportunity to marry my vocation—Internet business development—and my avocation—music—into one professional identity," she said. "And I was able to join up with a passionate and smart management team to mold a fledgling company's future together."
Steel, serves as the executive sponsor of Pandora's Women in Business group, which aims to connect, mentor, and inspire Pandora's current and future female leaders. She is often referred to as "the woman who is putting Pandora in the driver's seat," due to the relationships she builds with partners in the auto industry.
Beyond making Pandora available in cars, Steel oversees strategic relationships with all home electronics and smartphone platform partners. Her team is focused on making Pandora available to listeners beyond the desktop.
"It is very exciting to be part of an enterprise that is hastening the evolution of a traditional industry into its digital future," she said. "One of the great things about working at Pandora, for me, is that music is a product that really has the power to move people—to enrich their lives.  It is rewarding to hear from our listeners that Pandora has that sort of impact on them."
When not laboring to spread the other artists' music, Steel is creating her own. She has released two albums under the name Jessica Stone, and has performed her original music onstage at venues in the U.S. and overseas.
Prior to working at Pandora, Steel ran international business development for Overture Services (a multi-billion dollar company acquired by Yahoo! in 2003). Before Overture, Jessica worked here in Washington, D.C., at Fannie Mae in the International Housing Finance group.
The American University community is invited to hear Steel's presentation on Tuesday, Nov. 15 in the Kogod Student Lounge at 4:00 p.m. The event is co-sponsored by the Graduate Business Association, Kogod Women in Business, the Music & Business Club, and the AU Social Media Club.