Business
Club Members Attend Finance Conference in New York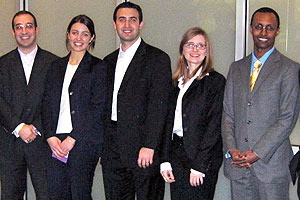 Four members of the Kogod Private Equity and Venture Capital Club (KPE) attended Columbia Business School's 17th Annual Private Equity and Venture Capital Conference on Feb. 25. Over 100 private equity and venture capital firms that are currently recruiting attended the conference, which boasted an attendance of over 800 people.
The conference included multiple panels on current issues within private equity and venture capital, along with headline speakers that addressed the entire audience. KPE learned about the most up-to-date market conditions and trends that spanned across many industries. Specific panels attended by KPE members were the state of Leveraged Buyouts in 2011, Investing in a Greening Marketplace, Real Estate Private Equity, GP/LP Relationships, and Private Equity in Emerging Markets.
"It was really encouraging to hear that the venture capital industry in New York is thriving," said Jamie Steinberg, MBA '11. 
During the conference, KPE members were able to build relationships with panelists and major industry players in finance. This included partners from multi-billion dollar PE funds such as Apollo Management, Goldman Sachs, Neuberger Berman, and Barclays Capital.
"I met a managing director, who shared insight about his private equity deals in Greece and gave me valuable professional advice," said Manbegrot Shimellis, JD/MBA '11.
The attendees weren't strictly financiers either; KPE members also met with general counsels and lawyers from firms such as Kirkland & Ellis. KPE also had the opportunity to meet an American University alum who is currently a partner at a $1 billion dollar private equity fund.
"Representing the Kogod School of Business at Columbia's PE/VC conference was more than just an opportunity to collect a few business cards and make a few contacts," said Alan Yu, MSF '11.
Kareem Nakshbendi, MBA '11 added, "KPE fostered long-term business relationships with MBAs from other schools and seasoned professionals as well as helped promote the brand of the Kogod School of Business."