On Campus
Digital Futures Forum 5
A Dynamic Discussion of Copyright in Academia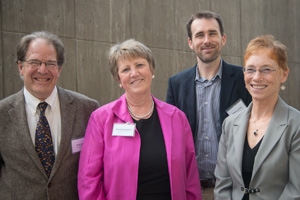 More than 60 attendees from American University and around the region gathered for the fifth installment of the AU Library Digital Futures Forum to discuss questions about the limits and future of fair use, facilitated by three experts on the subject in academics and beyond. The session opened with attendees voicing some of their most urgent questions about fair use, ranging from the reproduction of visual media in academic works to the use of news organization logos on third-party websites.
Keynote speakers were Patricia Aufderheide, co-director of the Center for Social Media and university professor in the School of Communication, and Peter Jaszi, co-founder of the Program on Information Justice and Intellectual Property and professor at the AU Washington College of Law, co-authors of the recently published Reclaiming Fair Use (Chicago). Aufderheide opened the session by showing an example of fair use in video, in which clips from recent popular television shows and movies were used to illustrate an important social topic. Afterward, Jaszi discussed the legal aspects of fair use.
Following their talk, Brandon Butler, public policy director at the Association of Research Libraries (ARL), shared information regarding recent court decisions affecting fair use in libraries. Additionally, Butler discussed the Code of Best Practices in Fair Use for Academic and Research Libraries, which was developed in collaboration between ARL, the Center for Social Media, and the Program on Information Justice and Intellectual Property, and has been used by lawyers and judges in guiding policy and court decisions. The session ended with a more in-depth discussion of audience questions that had not yet been addressed, including the jurisdictional aspects of international information-sharing and distinctions between fair-use regulations regarding different types of media. 
The full session can be viewed here. For information about upcoming library-sponsored events, please contact LibEvents@american.edu.