Achievements
Recent WCL Graduates Named Fulbright Scholars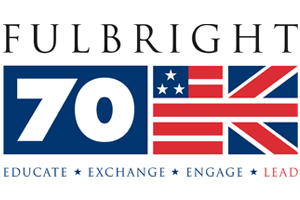 The Fulbright Program awards approximately 8,000 grants annually, allowing students, scholars, teachers, and professionals to study, teach, and conduct research at institutions worldwide. This year, recent graduate Matthew Smith '14 and alumna Mina Trudeau '12 (pictured), both Public Interest/Public Service Scholars while at the AUWCL, were awarded Fulbright grants.

American University offers strong support to students and alumni throughout the application process for Fulbright Programs. Interested applicants should contact the Office of Merit Awards on main campus or David Steib in the Office of Public Interest at the law school during the summer preceding the fall application deadline.
Mina Trudeau

With an extensive background as a social justice activist, and with more than 10 years of experience working with NGOs on gender, environmental, and human rights issues including international asylum, Mina Trudeau '12 attended AUWCL for its strong focus on public interest and human rights law. Currently serving as a consultant and legal analyst for the Impact Litigation Project at AUWCL, Trudeau will travel to Turkey in the fall for her Fulbright.

According to Trudeau, Turkey has increasingly become a destination for refugees and asylum seekers from several surrounding regions. For decades, Turkey has worked with the UN High Commissioner for Refugees (UNHCR) and the NGO community to assist migrants in meeting their basic needs and to safely seek resettlement. Turkey does not allow non-European refugees to remain permanently in the country—a practice that was recently reaffirmed by a comprehensive immigration law passed in spring 2013. Yet, as Turkey implements its own new asylum system, the UNHCR projects that an increasing number of non-European refugees and asylum seekers will enter Turkey—from Syria, Afghanistan, Iran, Iraq, and other countries.

"Working with many refugee communities can be challenging for any country, especially one facing several humanitarian crises along its borders" explained Trudeau. "I will have the opportunity to conduct my research during the early months of the implementation of the new legislation and its application to incoming refugees and new asylum seekers."

Once in Turkey, Trudeau will be based at Yeditepe University Faculty of Law and the Migration Research Center at Koc University. Throughout the nine-month program she will utilize the institutions' resources and databases to do a thorough legal analysis of Turkey's refugee and asylum laws. Using her language skills and contacts within the NGO community, Trudeau will interview asylum seekers who have applied through Turkey's new system and those adjudicated through the previous system. With help from a micro grant for fieldwork from the American Society of International Law (ASIL), Trudeau also hopes to travel to refugee camps to conduct further interviews with asylum seekers.

"Increased understanding of the causes, dynamics and impacts of migration is relevant for the U.S., for Turkey, and the international community," said Trudeau, who plans to make her findings available to government officials, the UNHCR, and academic institutions. She also hopes to publish her work.

"With this Fulbright grant, and through the study of this significant new law, I will continue to develop my international law career in the unique environment of Turkey."
Matthew Smith

Matthew "Hezzy" Smith '14, a recent graduate with a passion for disability rights, will travel to Mexico this fall as part of the Fulbright Scholar Program.

Before attending law school, he worked in Bangladesh to implement the newly-adopted UN Convention on the Rights of Persons with Disabilities (CRPD). Although he was able to make a difference serving in an advisory role, he soon realized that he could have a greater impact if he were able to file complaints on behalf of those in need, and he set off to earn his JD.

The issue of guardianship—when someone is appointed to exercise the legal rights of a person with a disability—is of particular interest to Smith and has been the focus of much of his research. Smith's younger sister has Down syndrome.

"My parents, like many parents, got inadequate legal advice," said Smith. "When turning 18, the only advice my sister and parents received from lawyers, the school district, and others was that full guardianship, though the most restrictive, was desirable and recommended."

According to Smith, this advice is given to parents around the world, but leaves individuals like his sister with limited options to enforce their rights in a legal way. Thanks to the support of an Equal Justice Foundation grant, Smith was able to travel to Mexico City last summer to work on an amicus curiae brief for a case that would apply the CRPD to the guardianship laws in Mexico City.

"The amicus was cited by the court in its decision," said Smith. "The judgment wasn't all everyone had hoped for in terms of modifying the guardianship regime and introducing new standards adopted by the international treaty, but the silver lining is there is more work to be done on this issue."

When Smith returns to Mexico as a Fulbright in September, he will work with a local NGO to research guardianship proceedings against adults with intellectual and psychosocial disabilities. His two-pronged research project will involve first conducting interviews with those involved in guardianship proceedings. Second, Smith will evaluate guardianship orders, determining if they comply with local statute and reflect any of the new criteria set by the Mexican Supreme Court in response to the CRPD. Smith hopes his research will uncover alternatives to guardianship and identify those that need quality legal representation.

"The project is a social and legal look at something that has a big impact on the extent to which people can live their own lives," said Smith. "Many times people are open to alternatives to guardianship, and if they knew they existed, they would pursue them."

After the Fulbright, Smith hopes to continue his work implementing the CRPD, perhaps in a developing context like Bangladesh.
This story was originally published on the WCL website.