Alumni
Class Notables: Dean Factor, Kogod/BSBA '87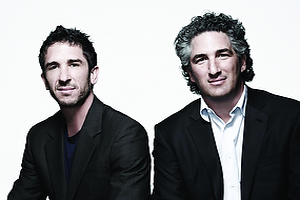 Dean Factor inherited more than a famous name from his great grandfather, Hollywood makeup legend Max Factor.
"I've just always been entrepreneurial; I think it's in my blood," Factor says. "Not having a boss is great. I wouldn't have it any other way."
In 1990, after picking up a MBA from the University of Southern California, Factor and older brother Davis opened SmashBox Studios in Los Angeles. Davis, a photographer, handled the creative side of the business, while Dean crunched the numbers and perfected his management skills.
"Working with my brother has always been great. There's a big trust factor there. I can't get rid of him, so we have to work things out," laughs Factor.
Several years into the business, the brothers got the itch to expand.
"We wanted more than just the studio. We wanted to take it into some kind of product line," says the Southern California native.
Given their lineage—Max Factor transformed the beauty industry in the 1920s, owning Hollywood's pouty-lip look—it was no surprise when the brothers set their sights on a cosmetics line. "It's just part of our heritage," says Factor. And, in 1996, SmashBox Cosmetics was born.
Despite a bit of a rocky start—the Factor name drew huge interest among retailers, and the brothers "just went too big, too fast.
"We created 300 products in less than a year, so the quality wasn't great at first," recalls Factor. "So, we downsized, we perfected the products, and here we are today."
Aimed at the fashion-forward, skin-conscious woman, SmashBox is now a $200 million per year business. Its line of eyeshadow, lipstick, mascara, and more is featured at such retailers as Sephora, Ulta, and Nordstrom. And Factor's not done yet: "I believe we can be a billion dollar brand."
Despite its industry darling status, and that famous Factor name, the company's CEO says his life isn't as glamorous as one might expect. Sure, there are dinners at Beverly Hills hotspot Mr. Chow, and evenings spent rubbing elbows with the Hollywood elite, but, for the most part, Factor's "really just a spreadsheet kind of guy."
"I don't think it's glamorous," says Factor, "I think it's really hard work!"