Alumni
Raji Radhakrishnan, Kogod/MBA '96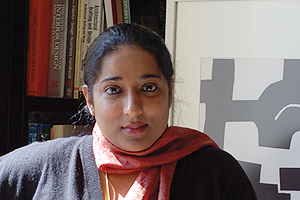 Raji Radhakrishnan was a creative child. As a youngster, she enjoyed painting and drawing; by 14, she was making furniture and two years later, she was traveling the world as a classical Indian dancer.
"It was only a matter of time before it all added up to a career," she says.
Today, Radhakrishnan is one of the Washington area's most sought-after interior designers, leaving her signature "modern but lived-in" stamp on spaces from Potomac to Georgetown.
The key to a Home and Garden–worthy design, says Radhakrishnan, is to create a beautiful, livable space that reflects the client's personality and aesthetic. As most people are usually very traditional or very modern, Radhakrishnan—who founded the Brambleton, Virginia-based Raji RM and Associates in 2003—seeks "middle ground" in her clients' homes.
"If someone has a very contemporary home—all glass and steel—I'm not going to bring in a Victorian chair," she explains. "I will, however, inject a few little things that they'll barely notice, to bring them more towards the middle.
"The key is to juxtapose all the right elements and make it seamless," Radhakrishnan continues. "I don't want someone to come into a room, point to one element, and say, 'this is the best part of the space.' I want people to see the room, as a whole."
At any given time, Radhakrishnan has about six projects going, which can stretch anywhere from six months to several years, depending on the size of the space and the budget. Though she has a team of people who handle the accounting and administrative duties, Radhakrishnan is the only designer—and she wouldn't have it any other way.
"A client's home is a true reflection of who they are," she explains, "so the design process is very personal. I've actually seen people's lives transformed. I designed a bachelor's home in D.C., and he still writes to me and says how happy he is to walk into his home. That's what keeps me going."
In addition to her bustling business, Radhakrishnan—whom the Washington Post named one of the "four faces of the future" in interior design—also launched an online shop, Maison et Toi, in 2007. Soon, she plans to launch an art gallery featuring some of the contemporary and modern works she's acquired while traveling.
The best thing about her work, she says, is seeing the joy on a client's face after she unveils their new space.
"I want to give people a truly happy home—a space that's not only beautiful, but magical."