Alumni
Kogod's Chief Redskin Now Packers' Chief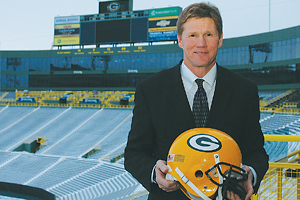 For two days in early May 1977, Mark Murphy '83 essentially was held hostage.
A hard-hitting safety fresh from college, Murphy had been flown to Washington by the Redskins during the first half of the two-day, then-12-round NFL draft.
"The Redskins called me and said 'Mark, we really like you; we want to draft you; we want to have you down here for a press conference,'" Murphy, 52, recalls. "I was all excited. I'm thinking they're going to have a press conference and say how great Mark Murphy is. There were about five or six of us who were there, they gave us a tour of Washington, D.C."
That night the team put the group up at a Marriott near Dulles Airport, where Murphy's then-girlfriend, now-wife, Laurie, tried to reach him. Unable to contact Mark in the paleolithic communication era before cell phones, e-mail, and wire-to-wire coverage of the draft on ESPN, other teams interested in him were calling Laurie in hopes of tracking him down.
"The Redskins had left instructions if anybody called for Mark Murphy to say there was no Mark Murphy," he says. "As soon as the draft ended, they took us to the Redskins practice facility. One by one they called us into a room and said, 'Listen, you haven't been drafted, but we really like you and we want to sign you as a free agent.'"
Legendary Redskins coach George Allen's duplicitous approach to courting Murphy might have infuriated other players—certainly many of today's coddled athletes and especially their agents wouldn't have looked too kindly upon the ruse—but the redhead from upstate New York examined the situation in the analytical and measured manner that has served him so well in classrooms at American University, courtrooms, and boardrooms throughout his remarkable post-playing career, which now has taken him to the storied Green Bay Packers.
"I ended up talking to some other teams, but the Redskins were the only team that wanted me to play safety. All the other teams wanted me to move to linebacker," he says. "I just thought, well, this is the NFL, this is the way it works. Despite my start with him, I ended up having a really good relationship with George. He was an innovative coach, a tremendous motivator. He called me the Redskins' 13th round draft pick."
The following year the NFL put the kibosh on the practice of "hiding out" players during the draft, but for Murphy, captivity couldn't have worked out better. Not only did he make the Redskins as an undrafted free agent, but he went on to play eight seasons with the team, winning a Super Bowl ring, making the Pro Bowl, and serving as team captain. Murphy took full advantage of his Washington environs, earning a MBA in finance from the Kogod School of Business while he was playing professional football.
"My wife always says he's like Huckleberry Finn, easy going, relaxed. Obviously he's an ambitious kid, but he doesn't give you that impression," says Fred Dunlap, Murphy's college coach at Colgate University. "There are a lot of guys that would just lift weights and play golf and run around, but he went down there to further his education. He wanted to advance himself."
Thirty-one years after embarking on his improbable NFL career, Murphy's upward journey might finally be over. There can't be any perch loftier than the third floor office in the football shrine of Lambeau Field from which he runs one of the most celebrated teams in all of professional sports, can there?
"This is a very special franchise," says Murphy, president and CEO of the Packers. "I'm going to do everything in my power to run it well and field competitive teams. You want to make sure that the brand is protected. You want people when they think of the Packers to think of small town America, working class values, an organization that's run first class with dignity."
First class. Dignity. Much the way people think of Mark Murphy.
Born in Fulton, New York, to Hugh and Nancy Murphy, Mark moved with his family frequently during his childhood. His father worked in labor relations for General Foods and Maxwell House in places as varied as upstate New York, New Jersey, and Texas, and it was in Houston that Mark, a slight sixth-grader who excelled in several sports, took up football.
"Quite honestly, basketball was my favorite," he says. "Football is pretty big in Texas, and I was better at it than the other sports."
Though undersized, Murphy always seemed to have a knack for the ball be it at safety or wide receiver. Coupled with a muted but fierce competitive zeal and an unyielding work ethic, he began to develop as a player.
"Here's my theory on Mark," Laurie Murphy says. "He was a quiet skinny kid in Texas growing up, and I think there were a lot of really big football studs, and he was going to show them. I think he was out to prove himself."
After his high school playing career ended in Buffalo, no major colleges came calling with scholarship offers. Murphy liked Boston College, but apparently there wasn't a lot of clamor in Chestnut Hill for a lanky 6-foot-3-inch, 180-pound defensive back.
It was at Colgate that Murphy began to develop, physically and intellectually. An economics major with an eye toward the business world, he somehow found time to play baseball as well as football while prioritizing academics. By his junior year, pro scouts started noticing the powerful, 210-pound hitter.
"Not that I didn't think about it, but it was not on my radar screen at all," Murphy says of the NFL.
For spring break junior year Murphy decided a little rest and relaxation were in order, so he set out looking for a ride down to sunny Florida.
"We ended up in the same car, and 24 hours later, that was it," Laurie Murphy says. "He was quiet but funny. He's got this unending energy, but it's not hyper. He's just always going. My grades got better when I started going out with him because he went to the library every night to study."
After graduating, Murphy put a budding business career on hold to chase his NFL dream. He played his way onto the Skins in 1977 based largely on his special teams acumen, and a few seasons later was starting at safety for a young coach named Joe Gibbs. In the Redskins Super Bowl XVII victory, Murphy had a key interception, and in 1983 he led the league in picks and was named to the Pro Bowl.
"Mark meant a lot to the Redskins organization," Gibbs said in a statement when Murphy was hired by the Packers. "He was a great person along with being one of the brightest and most competitive people we've had here at the Redskins."
During his first off-season in Washington, Murphy worked in a sales position at a bond firm. He did it for the experience, but the extra cash couldn't have hurt. As a rookie, his base pay was $21,000 ($75,000 in 2007 dollars).
"My second off-season I was thinking of what I could do, and I thought that having a master's would probably help," he says. "Looking at business schools in the area, American had a good reputation."
Over the next few years, Murphy attended Kogod full time in the spring, took one summer class, and one at night in the fall while he worked his day job with the Redskins.
"Given his schedule, I was always struck by his conscientiousness and how well he was prepared for class," says Kogod professor Kent Baker, who taught Murphy's finance seminar. "He was very down-to-earth, just a regular guy who was pretty tall. [What he] had to go through is different from what a typical part-time student goes through. They're not out on the football field hitting 350 pound guys."
For much of 1982, no one was hitting anyone in the NFL. A players strike crippled the game, and Murphy, the Redskins union representative and a MBA student, played a key role in the negotiations.
"I had an interest in maybe working in labor relations," Murphy says. "Also, the NFL Players Association headquarters were in Washington, so I was very involved in the planning meetings and the negotiations."
Sitting across the bargaining table from Murphy was a young league lawyer who took notice of the intelligent and engaging player. When he later became commissioner, Paul Tagliabue asked Murphy to join his advisory committee and the NFL Youth Football Fund Committee.
"He was the type of person who was always willing to take responsibility, he never shied away from taking a leadership position," Tagliabue says. "He has a tremendous work ethic, very strong values, and a good balance between understanding the values of the game and the business side."
Endings in the NFL seldom are pretty, and Murphy's exit after the 1984 season was no exception: the Redskins unceremoniously released him.
With a job offer from the NFL Players Association (NFLPA) and an acceptance letter from Georgetown Law School waiting in the wings, Murphy decided to hang up his cleats.
As assistant executive director of the NFLPA, he was in charge of agent certification, career planning, and development programs for the players, and was immersed in the 1987 strike negotiations. All the while, he was attending law school four nights a week.
"I look back on it and realize my wife was a saint," he says. "She was home with two young kids; it was kind of a crazy time. In dealing with the transition away from my football career, I think it was good that I was able to focus and bury myself in work and law school."
Compartmentalizing always has been a Mark Murphy staple.
"In life and on the sports field, he knew once he did his best he could let it go," Laurie says. "He wasn't whiny after games or angry. I think that's why he's a good administrator, he can focus on what's important and not worry about stuff he can't control."
But before athletics beckoned, the courtroom did. After earning his JD in 1989, Murphy joined the U.S. Department of Justice as a trial attorney in the Civil Division's Federal Programs Branch. He represented government agencies in lawsuits, in one case arguing for the Census Bureau against the state of Montana, which challenged the constitutionality of the reapportionment formula. The case went before a three judge panel, so there was just one appeal—directly to the Supreme Court, which sided with Murphy and the federal government.
"In some ways it helped me get my competitive fix," he says of his litigation experience. "Especially if it's a trial where you're working together with a group of attorneys, there are a lot of similarities to getting ready for a game."
Pining to get back into athletics, Murphy succeeded Dunlap, his college coach and mentor, as athletic director at Colgate. He was all of 35. Over the next 11 years, Murphy helped rebuild the university's football program in part by convincing the Patriot League and the NCAA to allow the conference champion into the I-AA playoffs. For three straight years beginning in 1995, the Raiders made the postseason.
More success awaited Murphy at Northwestern, where he served as athletic director for five years. In his last three years there, the school finished in the top 30 of the U.S. Sports Academy Directors' Cup. Last year, Murphy's final one in Evanston, six of the school's 19 teams finished in the top eight of their sport. According to the most recent NCAA Graduation Success Rate data released last year, 98 percent of Northwestern's student-athletes graduated, tied for tops in the country.
It's no wonder Green Bay came calling.
"In a lot of ways I wish I could have stayed longer at Northwestern. I felt like there were still things to accomplish," Murphy says. "But the Packers are such a tradition-laden and storied franchise that it was the kind of opportunity that I really didn't think I could pass up."
On Dec. 3, Murphy was introduced as the new president and CEO of the only professional sports team in America owned by its fans. Judging by the reception Murphy has gotten in Wisconsin, it's safe to say most of the franchise's roughly 111,000 stockholders and millions of fans are ecstatic to have him on board. In tiny Green Bay, everyone associated with the Packers is a celebrity.
"I had to fly out an hour after the press conference," he says. "As I was walking through the airport, literally every person came up to me and said congratulations. How did these people know who I was?"
With a glistening green steel and glass atrium housing restaurants, pro shops, and the Packers Hall of Fame attached to the football mecca that is Lambeau Field, the franchise is a 365-day, multimillion dollar business operation. Cheeseheads flock from around the world to support the team with the unique fervor of small town passion on the biggest of stages. It's pigskin Shangri-La; could it be that Murphy's ascent has ended?
"My predecessor Bob Harlan spoke about how he really felt as though he was a caretaker, and I think that's a good way to describe it," he says of running the Pack. "I hope I'll be here for a long while."