Technology
Glass in the Class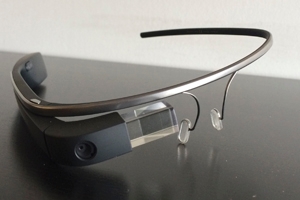 Google Glass is coming to American University. The College of Arts and Sciences, Kogod School of Business, and the University Library will receive their own new cutting-edge devices. Google Glass is not yet available for everyone on the consumer market, but the initiative of an AU staffer and graduate student made this happen here.
If I Had Glass
Erin Nixon, a budget and personnel manager in the dean's office of the College of Arts and Sciences and an AU alumna (SIS/MA '10), is a self-described "Google geek" and "tech nerd." As part of an experimental process run by the search engine giant Google, certain "explorers" were chosen to get first crack at using Google Glass.
In February 2013, Nixon entered an "If I Had Glass" competition. Contestants make their case by explaining what they'd do with the new gadget. "I could discover DC rather than looking down at map on my phone. Seriously, only so many times you can get lucky with traffic," she tweeted. Nixon was one of 10,000 people invited to buy the product, and now she helped secure three new Google Glass headsets for AU.
Features and Benefits
At a recent presentation during the Ann Ferren Conference on Teaching, Research and Learning—which celebrated its 25th anniversary this year—Nixon expanded on the value of Google Glass. "The whole idea Google had was getting technology out of the way. So rather than having someone looking down at their phone all the time, they wanted to have technology so that you could look people in the eye and have a conversation."
Though some applications are available in other products, Google Glass consolidates these features into one wearable device. Through voice command, the user can summon practical assistance for any number of routine activities.
"The weather's right there on the Glass, you can ask for it to translate things, Google somebody's name, what's the score from last night's game. It knows what you're talking about and instantly presents it," Nixon explained in an interview.
A key Glass feature is the ability to take pictures or record videos. Glass is linked to the user's Google account, including email and Google+. Photos or videos can be stored in Google+ for sending and sharing. The Google Maps feature is particularly useful, she says.
Glass can track your whereabouts and learn your schedule. "Google actually will send you an email on a regular basis that presents you with all your data, and you're able to download it and do analytics on yourself if you wanted to. It's really fascinating," she says.
This personal data mining raises privacy concerns for the user. And people walking around with operating cameras on their faces could make non-users uncomfortable.
But Nixon says that's why Google has been careful about how it's releasing the new technology. Upon receiving Glass, Nixon had an in-person appointment with a specialist to discuss prudent uses of the device. For instance, Nixon says explorers are explicitly instructed not to drive while wearing Google Glass. Yet a woman in San Diego did just that, getting a traffic citation. (It was later thrown out in court after a commissioner required proof that the device was in operation at the time).
Google Glass will provide educational benefits for AU, Nixon says. "Especially with new technologies, academics is always behind the ball. It's always for-profit companies that go after new technologies to find a way to make money from them. But I see the applications in research and first-person interviews. When I was in social science, there were plenty of times I really wish I didn't have to fiddle with a recorder," she says. And Google is still working on potential applications for people with disabilities.
Gadget People
Nixon was born in Louisiana and later moved to Harrison, Arkansas. She's always been a techie, and that passion runs in her family. "My mom says it was genetic. My grandfather was a very big gadget person…I remember he was completely beside himself when they had fans that had remote controls on them," she recalls with a laugh.
She earned her undergraduate degree from Hendrix College in Conway, Arkansas before coming to AU. While she already has a master's in international peace and conflict resolution from the School of International Service, she's currently pursuing an MBA in the Kogod School of Business.
Nixon has even found time for a little fun with Google Glass. On a trip to Hawaii last year, she took pictures while surfing, hiking, and sightseeing. "I was able to Google plant names that we just don't have on the mainland. And understand how to say things in Hawaiian," she says.
"The interaction between the web and the reality is coming closer and closer, and being able to overlay the web on top of what you're looking at is already a huge step forward."