Class Notables
Ronald Boots Nissenbaum, Kogod/BS '68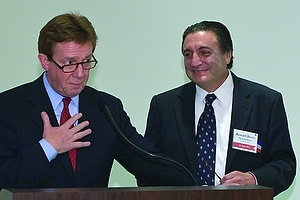 There are Eagles basketball fans—and then there's Boots Nissenbaum.
The men's team's run to its first-ever NCAA Tournament berth last season thrilled the entire AU community, but it just may have been a wee bit more special for Boots, who's been a diehard fan since the moment he first stepped on campus 44 years ago.
"I'm getting a little bit choked up talking about it now," he says, recalling AU's hard-fought, first-round loss last March to the University of Tennessee. "We were all sitting around the morning before the game saying if we can keep it under 30 so we're not embarrassed, we'll be happy. Then the game started and our kids had ice water in their veins. They weren't intimidated; the coaching staff had them well prepared. There probably wasn't one kid on AU who Tennessee would have recruited. It was very proud for all of us there. It was just a marvelous experience."
In 1964 when Boots—his grandfather's nickname passed on to him—decided at the last minute to scrap his plans to attend NYU and instead followed a buddy south to AU, he had no way of knowing he was in for a lifetime of basketball obsession.
"I went to all the home games—there was no question," he says. "My roommate and I used to go to some away games. We'd go to Philly, we even flew to Pittsburgh to see AU get decimated by Duquesne. I think we flew round-trip from Washington to Pittsburgh for $20."
After graduating, Boots returned to Philadelphia, where he lives today and runs Humphrys Textile Products, one of the oldest canvas and industrial fabric product companies in the United States. Coaching T-ball games and other pesky adult responsibilities limited his basketball game attendance while his three children were growing up, but in the mid-1990s he jumped right back into the deep end, supporting the program financially and driving down to Washington for every home game and hitting quite a few on the road as well.
"I said, if I'm going to comment on the program and contribute to the program, then I have to know what I'm talking about, so nobody can tell me, 'Boots, you don't know what the hell you're talking about,'" he says. "I can go, 'I saw 18 games this year, how many did you see?'"
Through the years Boots has recruited a loyal crew of friends to attend the games with him. Game days at Bender Arena, he, his buddy Marc Goldstein, CAS/BA '70, and a host of others can be seen sitting courtside, often critiquing the referees' performance.
"There are maybe a dozen of us who go regularly, and we meet before the games," he says. "If someone doesn't show up, we want to know why. It's the way I stay connected to my friends and the school. We play a good brand of basketball. Last year wasn't the best AU team, but it was a team that had heart and didn't fold when they were under pressure. To finally get over the hump after 44 years, I didn't know how I was going to react. I always pictured that I would run around the court, ripping off my shirt and dancing, but I just sat there with my wife, crying. I couldn't believe it."