Business and Economics
Kogod Opens Virtual Trading Floor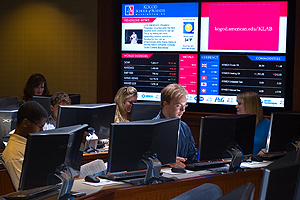 Kogod students gained a competitive advantage—a powerful tool in this down economy—when the new Financial Services and IT (FSIT) Lab, equipped with a trading wall that features a stock ticker and news feed, opened for business this semester.

The state-of-the-art lab is the crown jewel of the new 20,000 square foot, $14 million building expansion at the Kogod School of Business.

Prominently located on the terrace level, FSIT has quickly become a gathering place for students who previously had to trek across campus to Anderson Computing Complex to tap into massive computing power.

The ramped up, in-house activity has helped create a Wall Street environment for work and study. The facility's 37 large screen workstations are loaded with13 software packages, including a suite donated by Thomson Financial that delivers real-time financial and banking data.

The oversize screens make lighter work of spreadsheet data on programs like Excel and SPSS, and ease the chore of building Web pages on Macromedia Dreamweaver.

Jill Klein, information technology executive in residence, expects students who master the tools packed into the virtual trading floor will gain the skills and confidence that will land them their first jobs and internships.

Klein says, having an in-house lab is also a boon to productivity and student-teacher relationships, "I know my students are down there, so it gives me the opportunity to work with them more outside of class."

Business administration sophomore Jonathan Louey added: "I am proud that we have a state-of-the-art facility at American. Whenever I'm in the computer lab, I'm motivated to learn something new."

Another point of pride for AU is that the Kogod expansion is the first structure on campus to be built entirely with philanthropic dollars, including a substantial gift from Robert and Arlene Kogod, for whom AU's business school is named.