Education
With Kogod's Personal Finance Portfolio, Learn to Manage Money for Life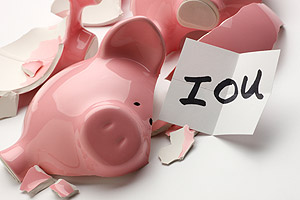 The economic downturn re-emphasizes how important personal finance is to securing a stable future. Alarming statistics on financial literacy, one of the biggest issues facing young adults today, are among the many reasons the Kogod School of Business is renewing its commitment to help students achieve financial success.
On average, young workers between the ages of 25 and 34 will have to spend 25 cents of every dollar earned on debt repayments. However, by the time they've reached their senior year of college, more than 50 percent of students carry four or more credit cards with an average balance of just under $3,000.
Enter Kogod's Personal Finance Portfolio.
This newly-formed sequence of three financial courses will empower young adults to make the complex financial decisions that will shape their futures.
Through these courses, AU students will learn how to make conscious, informed decisions on everything from paying off their student loans to investing for retirement to buying their first home.
Students must understand these concepts or they risk losing large amounts of time and money, says Executive-in-Residence Mark Waldman, who teaches FIN-200 (Personal Finance) along with Professors Robert Lipnick and Lawrence Schrenk.
"Personal finance is survival knowledge as far as I'm concerned," Waldman says. "The truth is that regardless of how poor or well off we may be, personal financial knowledge can help us get more out of our lives."
The Personal Finance Portfolio will teach skills for the average person's financial perspective, and is appropriate for all non-business students who are planning to earn an income, have a family, or receive employer-sponsored benefits after graduation.
"We teach the course from a real-world point of view, so students learn practical skills and knowledge they need," explains Waldman. "It is profoundly empowering."
"This class provided me with the concepts I need for a successful financial future," said Rachel Engle (SPA '13), a FIN-200 student. "Professor Lipnick has done a great job of teaching us these tools, while also giving us the opportunity to put what we've learned to use through practice scenarios."
The course material is especially important for students interested in one day becoming entrepreneurs, running a family business, buying real estate, or making investments in the stock market.
The three-course portfolio includes FIN-200/Personal Finance; FIN-312/ Investment Markets, Choices & Planning; and FIN-373/Principles of Real Estate.
Through these three courses, The Kogod School of Business will ensure that all American University students can achieve one lifetime of financial stability.
Find Out More
FIN-200 provides the background for making personal financial decisions and shows how to set financial goals and devise strategies to meet them. This includes cash flow control, banking, credit, taxes, insurance and estate planning.
FIN-312 focuses on the key institutions and markets that are important in making investment decisions. The course helps students recognize key investment concepts and a basic framework for an investment portfolio.
FIN-373 deals with the practices of listing real property, contracts, deeds, leases and financing. Transfer of title or ownership, private and public property rights, and other claims on real estate are discussed.