Achievements
AU Takes Home Nine National CASE Awards and an Emmy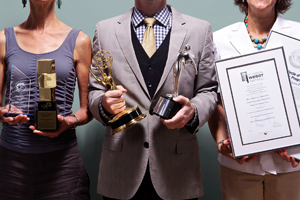 Summer is turning out to be award season at American University.
The institution received an Emmy for best single spot commercial for its "All the Wonks are Talking" ad from the National Capital and Chesapeake Bay Chapter of the National Academy of Television Arts and Sciences.
It also received nine national CASE Circle of Excellence Awards from the Council for the Advancement and Support of Education. The competition generally is acknowledged to be the highest recognition a university can receive for its work in higher education advancement and communications.
University Communications and Marketing was responsible for six of the nine CASE awards and the Emmy.
"Recognition from the major professional association in our field represents the view of our peers," said Teresa Flannery, vice president for communication. "To have our team's work judged and recognized by colleagues across the country is very affirming. Also, it provides another great opportunity to establish or enhance the university's reputation. The branding campaign has captured the attention of higher ed leaders around the nation and world, to say, hey, something pretty special is happening here. Take a look."
The Kogod School of Business won two CASE awards, a gold for its 2010-11 admissions collateral, and a silver for its magazine, Kogod Now. Another award, for general information video, was shared by Kogod and UCM.
Assistant vice president for marketing Deborah Wiltrout, director-producer Matt Fredericks, and producer-editor David Stone were at the Newseum June 16 to receive the Emmy.
"Typically, universities turn to ad agencies and production companies to produce their commercials," Fredericks said. "AU's leaders trusted us and had the faith in our abilities enough to let us produce the spot in house. This meant we could produce the spot for a fraction of the cost, while drawing on all of the wonderful resources and skills of our peers and students as crew members. Rather than just paying some outside party to come in and do it, we were able to make 'All the Wonks Are Taking' a university-wide effort by involving the people who work and study here."
AU won CASE awards for:
General News Writing (gold)
Excellence in Design: Multi-Page Publications/Folders (gold) - Kogod overview book
Excellence in Design: Periodicals (silver) - Kogod Now
General Information Videos (gold) - Kogod Now video
Individual Sub-Websites (gold) - WONK website
Institution-Wide Branding Programs (grand gold) - WONK brand campaign
President's Reports and Annual Reports (gold)
Student Recruitment Publications Packages (grand gold) - Undergraduate viewbook
Advertising (grand gold) - WONK brand advertising

"I am most pleased by the sheer number of awards we've received this year, as well as the level," Flannery said. "Nine total CASE Awards. Three grand gold awards. An Emmy. These say the work of AU's team of communication professionals is stellar. It is terrific to see their work stack up against the top agencies and institutions and come out on top."
American University's branding campaign already is showing success in key measures. In the first full year of the campaign, early decision applications and Admissions Welcome Center visits were up sharply.