International
The Kitchen as a Venue for Foreign Policy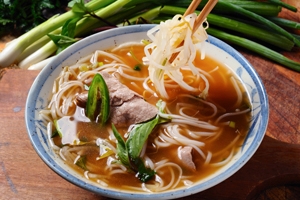 The School of International Service recently launched a one-of-kind class on gastrodiplomacy: Conflict Cuisines: An Introduction to War and Peace through Washington's Ethnic Restaurants, taught by Johanna Mendelson Forman, a policy expert on international conflict.
The concept of gastrodiplomacy has been gaining traction in diplomacy in recent years—former Secretary of State Hillary Clinton launched a "chef ambassador" corps a couple of years ago, for example. Mendelson Forman's class is apparently the first time gastrodiplomacy has been introduced into the classroom.
Conflict cuisine is a subset of food diplomacy that examines how the kitchens of diasporas serve to translate and assimilate foreign cultures. It explores how these cuisines provide a means for those who have come to the United States as victims of conflict to use food as a vehicle for employment and for transferring their culinary heritage.
A true sensory experience, the class features trips to local ethnic restaurants, where the students enjoy a meal and hear the owners and chefs speak about their culture and history and their first-hand experiences of coming to the United States from conflict zones around the world. "The idea is for students to hear from the cooks, from the owners of these places, [about] how they see their cuisine as a communication tool in their own communities," says Mendelson Forman.
The SIS class immerses students in the study of war and conflict prior to September 11—including the Vietnam War, the Soviet war in Afghanistan, and Ethiopia's civil war. "This course also reflects the observation that the expansion of ethnic cuisines in Washington is not only a manifestation of global conflicts taking place in other parts of the world, but also a symbol of loss and connectivity," says Mendelson Forman.
A Scholar in Residence at SIS, Mendelson Forman has held senior positions in the U.S. government, helping create the Office of Transition Initiatives at the U.S. Agency for International Development, and working at the World Bank's first Post Conflict Unit. She was Director of Peace, Security, and Human Rights at the United Nations Foundation and served as senior adviser to the UN Mission in Haiti.
"The reality of global wars and their impact on affected communities can help students connect to international events in a very intimate way. Sitting at the table, talking with the chef, and learning about how a particular food or dish came into the diet of many Washington residents is a way to teach about a dimension of conflict that is often forgotten: the human dimension," she explains.
The class was a big hit—all nineteen spots filled up quickly this past semester with many on the waiting list. It will be offered again in Spring 2015. The class has also attracted some media interest, and was featured in NPR's The Salt, in the Globalist, and elsewhere. Mendelson Forman has also written about her food explorations in her Voxxi blog.
Given the success of her class at SIS, Mendelson Forman is optimistic that gastrodiplomacy will be explored at other universities around the country.
Follow Johanna Mendelson Forman on Twitter @JohannaWonk.