Achievements
Dreams Come True for AU Grads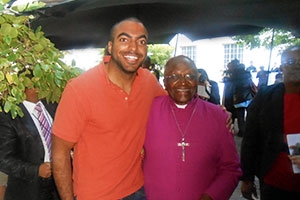 Four years ago, if you'd told Kevin Felisme, SPA/BA '14, that he would found a youth mentorship program in South Africa, meet with President Obama at the White House, and graduate from American University (AU) with his choice of jobs, he would not have believed you.
For one thing, he didn't start out at AU. Felisme spent freshman year at a small liberal arts college in New Hampshire, playing football until a knee injury forced him to rethink his goals. He decided he wanted to study criminal justice at a school with more opportunities, but with his low first-semester grades, he knew AU was a long shot. He was determined, however, and passionately made his case in an interview and regular follow-up emails, while focusing on raising his GPA and continuing his volunteer work.
"It was literally a dream to come here," he says. "I will never forget the moment I got the email saying that I got into AU. It was the happiest moment of my life."
Once he arrived at AU, he didn't waste any time getting involved in the community and seeking out opportunities. The list of Felisme's internships and accomplishments from his three years at AU sounds like it belongs to half a dozen students, not one dedicated young man. His first internship was with the Vera Institute of Justice, a think tank that focuses on humane criminal justice policy, followed by internships with Argus House, a group home for young men on probation, and JumpStart, an early childhood education program.
Felisme says, "those experiences helped me narrow down my focus and goal: to pursue a career working with at-risk youth and really making sure there are preventative programs and resources available to kids in low-income communities that can help them succeed, avoid the criminal justice system, and reach their full potential."
As an intern with the Center for American Progress, Felisme was part of a group of students that met with President Obama at the White House to discuss the importance of student loans. There's a photo of him standing behind the President during the speech that followed.
"That was a surreal experience," Felisme says, shaking his head. "I can't tell you in words how amazing it was. That kind of thing just doesn't happen in my world."
But more was still to come. He applied for and received a Gilman Scholarship, which allowed him to spend a semester studying in South Africa. There he met Archbishop Desmond Tutu and founded a youth mentorship program for boys. It was another dream come true for Felisme.
"Studying abroad is something I never thought I'd be able to do. I never thought I could afford it," he says. "It was such an amazing experience, and it would not have happened without American University. Ever since I've been here, I've been blessed to have extraordinary opportunities that I never would have had back home."
While following a different path to get here, Aljawharah Alassaf, SPA/BA '14, shares Felisme's enthusiasm for the opportunities available at AU. 
"People can do as many things as they want here," she says. "The professors are so welcoming and people at the university really care about what you're doing and believe in you."
Alassaf came to D.C. from Saudi Arabia with almost no English skills, and spent a year and a half studying the language before enrolling at AU. Even so, she had a bit of a shock when she attended her first Intro to Law class.
"After a year and a half, I was confident that my English was competent enough to start college," she says. "Then I went to class, and I thought, 'What language is this? Is this English?' It was challenging for me to sit down and study all the legal language before starting to understand the concepts."
At first Alassaf was hesitant to seek help when she didn't understand something, but as soon as she understood the value of office hours, she became proactive in asking questions and getting guidance. At the beginning of each semester, she went around to all her professors, introducing herself as an international student and asking how she could best prepare herself for the course.
Her hard work and preparation paid off. She did well academically, and when she decided to pursue a semester-long independent study, her professor recommended that she submit her research for publication. Alassaf was initially skeptical, but she enjoyed the process, and went ahead with it. Her paper comparing aspects of U.S. and Saudi law was published by an international journal in fall 2013.

She didn't limit herself to on-campus activities, either. Alassaf visited the Career Center to develop her resume and write cover letters, both of which were new experiences for her.

"Before coming here, I didn't believe in working and studying at the same time," she says. "I didn't grow up in a culture that teaches us these things. But coming to AU, I realized how important it is to get practical experience."
She held a year-long internship at The World Bank her junior year, a serious responsibility and a rare accomplishment for an undergraduate. This year she is interning with a D.C.-area law firm, and has received a full-time job offer there, as well as an acceptance to a master's program in international law.
As she debates whether to continue her studies or enter the workforce, Alassaf reflects on the challenges she has faced so far, and what her successes at AU mean. 
"It was a challenge for me to come here alone to study at the age of 18, because that's not really acceptable in Saudi culture," she says. "[There is] pressure on me to do the best I can here, and to succeed, because everyone is looking at me to see if I can make it. If I go home a success, I hope that changes their mentality and opens the door for other girls to come and start their journeys."
Alassaf advises current and future students to be proactive in overcoming their own challenges.
"Always ask. Ask nicely, politely, but at the end of the day just ask about anything you're interested in," she says. "Use school resources. Do independent research. Dare to dream. Dare to do anything, because here, anything is possible."
Felisme agrees.
"The resources at AU are amazing, if you take full advantage of them," he says. "One of the first things I did here was visit the Career Center and the Office of Merit Awards, and those are just two of the many facilities on campus that can provide you with ample opportunities to succeed and do anything you can dream of."
Felisme recently accepted a year-long, full-time position with the Chicago Mercy Home for Boys and Girls, an offer that came out of an AU Alternate Break he did this spring. The work is a perfect match for Felisme, who wants to make sure everyone gets the kind of chances he has had.
"I think every child should have the ability to tap into their full potential," he says. "You can go from nothing to something, but you have to be willing to work hard and you definitely have to have a few breaks. My parents worked extremely hard to give me these opportunities, and people helped me out along the way. If I can do it, anybody can do it."