Alumni
New Faces on AU's Basketball Court for the 2013-14 Season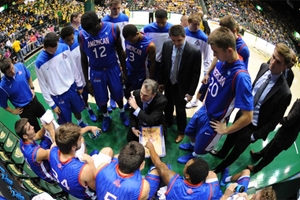 Bender Arena boasts many new faces this year. The 2013-14 basketball season is a unique one for AU in that the university is welcoming not only a new director of athletics and recreation, Dr. Billy Walker, but also new head coaches in both basketball programs. Both new coaches bring previous experience with AU's programs and an impressive record of success for the Eagles to build upon.

Mike Brennan was named head coach of the men's basketball team in April. He most recently served as an assistant coach at Georgetown University, but also served two seasons as an assistant coach at AU during which the Eagles experienced their two greatest years in program history, winning back-to-back Patriot League Regular Season and Tournament Championships, advancing to the school's first-ever NCAA Tournament berth. Mike's impressive pedigree also includes playing and coaching for his alma mater, Princeton University, as well as serving for one year as a volunteer assistant coach at Columbia University. 
"I couldn't be more excited about naming Mike Brennan as the next head coach at American University! Mike embodies all the qualities we were looking for in a coach: integrity, character, experience recruiting at a high-end academic institution, ability to connect with players, toughness, and unmatched skills in player development and teaching," said Walker. "Above all, Mike is the ideal role model and mentor for our young men to emulate. Mike understands the primacy of academics, but knows we can compete for championships as well—he's the perfect fit!"
Megan Gebbia was named head coach of the women's team in August. Megan most recently served as associate head coach at Marist College, but also served as an assistant at AU for the 1995-96 season, in addition to stints as an assistant at Wright State and the University of Maryland-Baltimore County. Megan began her coaching career at her alma mater, Towson University, and served as team captain of the Tigers' squad during her senior season. 
"Coach Gebbia's record both on and off the court is nothing short of breathtaking," said Walker. "In 10 years at Marist College, she helped lead her team to 10 consecutive 20-win seasons, including the program's first two 30-win seasons. She has been to the NCAA tournament nine times, winning five tournament games in the last seven years—including a trip to the Sweet Sixteen. Her overall record while at Marist is 264-64… an unbelievable 200 games over .500. I couldn't be happier to welcome Megan to the American Eagles family!"
The men's basketball team (1-1) is on a four game road trip, which tips off at No. 8/8 Ohio State tonight. View the men's basketball schedule.
Women's basketball (2-0) hosts Dartmouth in its next home game on December 1. View the women's basketball schedule.