Alumni
AU's Stake In: Leigh Morgan, SPA/MSOD '97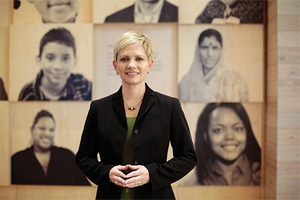 Working for one of the world's richest couples has been exceptionally enriching for Leigh Morgan in much more than the monetary sense of the word.
"It's an incredible privilege to know that we're helping build a world where every person has the opportunity to live a healthy, productive life," says the chief operating officer of the Bill and Melinda Gates Foundation. "That's our North Star. It's an easy thing to get excited about and to work really hard on behalf of."
With an endowment of roughly $40 billion, the foundation is the largest of its kind on earth. Last year it handed out $4.2 billion in grants to organizations working toward one of its four core missions: ensuring children survive and thrive; empowering the poorest, especially women and girls, to transform their lives; combating infectious diseases that particularly affect the poor; and inspiring people to take action to change the world.
A native of the Pacific northwest, Morgan attended Duke University as an undergraduate, where she played point guard for the basketball team. She worked in government, biotech, and academia before the Gates Foundation came calling in 2014.
"Bill and Melinda are remarkable human beings and remarkable leaders," she says. "They set a high bar for us, and their consistency and values inspire us every day. We want to ensure that we have a culture and working practices that enable us to reach our fullest potential. Doing so, we think we'll have an even greater impact in the world."
Hard to image that's possible, but like her bosses, Morgan believes that with hard work and determination, almost anything is.