Student Life
AU Abroad Students Aim For Careers Overseas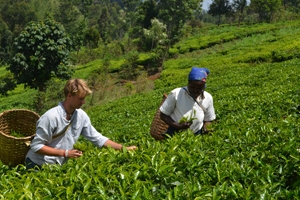 When Sam Sturgis was in high school on Nantucket, he knew little about Africa.
During his college search, study abroad programs were of great importance. He knew he wanted to spend a year abroad. AU's Issues in Sustainable Development in Nairobi offering was one of the main factors that drew Sturgis to the university. 
This year the junior SIS student is spending the year in Kenya, making good on a commitment he made to learn more about the region.
When it comes to studying abroad, Sturgis is unique. Most college students who study in foreign countries choose more traditional locations such as England, Spain, or Germany. 
At AU, a far higher percentage of students study abroad in more distant locales — about one-third according to Sara Dumont, director of AU Abroad.

AU students are currently studying in Argentina, Brazil, Jordan and Kenya. Before unrest broke out in Syria and Yemen, AU students studied in those countries as well. The Yemen summer Arabic immersion has been suspended indefinitely.

"The fact that there's no way you can fit in, I think is very good experience," Dumont said. "It will shape you and sensitize you when you return."
AU Abroad is a leader in sending students to countries off the beaten path. Many students see their study abroad experience as not just a way to travel and soak in some local culture, but as a foundation for careers overseas.
In a recent Open Doors study, which surveys international education, the university ranked fifth by institutional type for percent of undergrads who studied abroad. AU also nabbed a fifth place ranking for yearlong study abroad programs and is 13th for semester-long programs.
More than 60 percent of AU students study abroad. Those students can choose from programs in 49 countries, including programs AU runs and those facilitated by third parties or in-country institutions. One of those programs is a Sogang University in Seoul, South Korea where junior Pam Davila is studying for the year.  
Photo courtesy of Pam Davila
Ever since Davila can remember, she's been intrigued with East Asian culture. When she was a kid, she loved the Japanese animation called anime. She's since fallen in love with K-POP, a bubblegum dance music genre from Korea. Her favorite food is kimchi bokkeumbap, a Korean fried rice dish.
Now the business administration major specializing in marketing is thinking about a future career in Asia. So it was no surprise to her friends and family when she announced her intentions to spend a year studying in Korea through AU Abroad. She wanted a deeper connection with the country and its people. Plus, she wanted to sharpen her Korean.
MORE: Gilman Scholarship Offers International Opportunities

"I'm hoping it will really improve my language skills. And being familiar with Seoul will help me as I apply for jobs because I've experienced it first-hand," she said.
Like Davila, Sturgis chose a yearlong program because he wants to eventually work abroad. He felt being in a country longer would make him more attractive to potential employers. He also is hoping his two years of Swahili will help get him a job in that part of the world.
"You have to be on the ground and get a first-hand perspective," he said, explaining that it can take a few months to get adjusted to life in a developing nation. "Then you can reflect on whether it's right for you."
Photo courtesy of Joel Hammond
So far studying abroad in a non-traditional country has definitely been the right thing for Joel Hammond, a junior majoring in International Studies. After a tour in Iraq, the military veteran knew he wanted to study Arabic in the Middle East. Jordan seemed the most stable, so in the summer, he packed his bags and headed off to the AMIDEAST Intensive Arabic program in Amman.
"After Iraq, I had one experience of the Middle East. But I always wanted a different perspective and this has been great," Hammond said.
Because Hammond has lived in Amman longer than just a couple of months, he's been able to have real interactions with Jordanians that have forced him to expand his ideas about issues like Israel and Palestine, the wars in Iraq and Afghanistan and the Arab Spring.
"There's a whole other context or discourse I couldn't get in the U.S. I'm getting information here at a more grassroots level," he said.
Using study abroad as a career builder in far-flung places isn't uncommon at AU, Dumont said. Most AU students enter with some experience with international travel already, so when it's time to pick a study abroad program, many are looking for something a little more challenging that will serve as a springboard into a profession.
"AU has always been a career-minded institution. Students are serious about the work they're doing," Dumont said. "They realize it's not that hard to adapt."