In the Community
AU Helps Needy During Holidays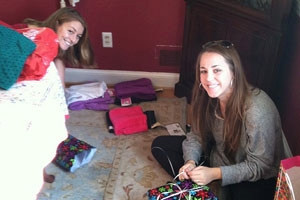 For the faculty and students of AU's School of Education, Teaching, and Health, the holidays provide an opportunity to help people in need.
That's why for the fifth year, working with Mary's Center—a local nonprofit that helps families with health care, literacy, and social services—they "adopt" families and buy presents for them during the holidays.
And for the second year, SETH faculty and staff are giving presents to families through Bright Beginnings of D.C., which helps homeless families with educational and support services.
"This service project exemplifies two important concepts," says SETH professor Stacey Snelling. "First, students come to American University for the Health Promotion Management Program as well as to contribute to the D.C. community through turning ideas into action and action into service. Second, health promotion students understand that for individuals to achieve overall health, their basic needs must first be met."
Each year, students and faculty AU's health promotion program buy gifts and wrap them at a year-end holiday social event that also gives students a chance to learn more about their classmates. They then take the gifts to the center to be delivered to the families.
"Hundreds of families look to us during the holidays as the only place where they can receive a toy for their children," says Maria Gomez, Mary's Center president and CEO. "We are only able to bring holiday smiles to children's faces with the support of such loyal and committed friends as the students and staff at American University."
Added Josephine Morris-Young, the center's chief financial officer: "Dr. Snelling and AU have been working with me over the past several years with this program. The generosity of the students has made a huge impact on these families. In one of the families from this year alone the mother is a single parent of two boys who are in elementary school. They lost a lot of their belongings when they were evicted from their apartment earlier this year. The clothes and material for their apartment have enhanced their lives and living conditions. Without this wonderful program, many of the families wouldn't have the basic necessities. The program made their lives a lot easier and not only will brighten their holidays but their standard of living as well."
Mary's Center, founded in 1988 as a nonprofit to help provide health and child care to immigrant women from Central America, is now a federally qualified health center. That means it can provide primary health care to immigrants from Latin America, the Caribbean, Africa, the Middle East, and Asia, regardless of their financial resources.
The center has two clinics in D.C.'s Wards 1 and 4, and medical and social services clinics in Maryland for medically underserved families as well.
"Mary's Center serves low-income, immigrant families whose linguistic and cultural needs would otherwise go unmet by public or private health care systems," according to the organization. "We link families to community services, informing them about the educational, housing, and employment resources available to them. All our social and educational services are provided at no cost, and no one is turned away from our medical services for lack of payment."
Since its founding in 1991, Bright Beginnings has helped 1,700 homeless children in Washington, D.C., by providing child care and family support services. Its classrooms are at the Perry School Community Service Center on M Street, Northwest.
"Bright Beginnings is a nationally-accredited child and family development center that offers a bright start for homeless infants, toddlers and preschoolers and their families," the organization says.
"Bright Beginnings serves about 186 children annually whose families are living in crisis shelters or transitional housing. Our educational, therapeutic, health and family support services prepares these children for kindergarten and stabilizes their families."
Both organizations accept contributions.