Arts
Recording a Forgotten Baroque Master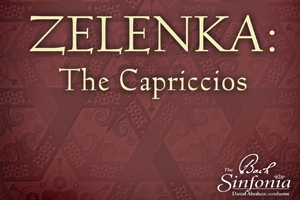 Many have seen Daniel Abraham, director of choral activities in AU's Department of Performing Arts, conducting the various vocal ensembles at American University. But what some may not realize is that he is also a specialist in seventeenth- and eighteenth-century music. This passion also fuels him as conductor and artistic director of the Bach Sinfonia, the Maryland-based ensemble dedicated to period instrument performances of Baroque and classical music.
Recently, Abraham and the Bach Sinfonia released a new CD, entitled Zelenka: The Capriccios.
The CD, Abraham's fifth commercial release with the ensemble, is a recording of five orchestral works by the Czech Baroque composer Jan Dismas Zelenka, who was a contemporary of Johann Sebastian Bach, Georg Philipp Telemann, and George Frideric Handel. According to Abraham, Zelenka's music represents a pinnacle of late Baroque music, despite his anonymity.
"He is virtually unknown in the wider listening circles," Abraham says, "and less known to scholars and performers because most of his music is not readily available in publications. There has only been a real resurgence in research interest over the last 20 to 30 years. Very little is known about his biography because very little documentation has survived, but his music has survived. We are just now beginning to assess him as a composer directly through his music."
Asked why he chose this project, Abraham explains that Zelenka already has a steady following in Europe, and that the awareness of Zelenka in America is starting to spread. A number of performances of his larger choral works have been conducted in places like Boston, Toronto, and San Francisco. "Even though this is a long-dead composer, his music is actually now receiving more recognition than it ever did in his lifetime and after," says Abraham, noting that his contemporaries considered him an exceptional composer.
Another reason Abraham chose Zelenka for this recording project is the composer's unique "individual" music. "It's quirky and odd at times," he explains. "It is harmonically very inventive, and melodically challenging. It can be viewed as tongue-in-cheek humorous, and at other times very serious and elaborate. It is really interesting stuff to approach and determine how to interpret. I think we have a great time not only performing concerts of this great music, but also going in and recording it for a week in the Shenandoah Valley area of Virginia."
The music itself is not the only unique feature about this recording. Abraham and the Bach Sinfonia took a page from the past and played the music on period instruments and in period style. They are among the first ensembles to record these pieces in this way.
One specific innovation of this particular recording is the use of horn soloists who use "bell up" horns. By the mid-eighteenth century, horns were played with the right hand inside the horn's bell. The hand made pitch adjustments and closed off some notes, allowing all sorts of possibilities in terms of adjusting intonation and scale. But unlike the "hand" horns, these instruments were played either with the bell off to the side or facing up, and the hand doesn't come into play. Abraham adds, "It's the first recording to use bell up horns rather than hand horns, which really didn't come into their own until the mid-1730s and 1740s. These works date from the 1710s through the 1720s, with most of them being written in 1717 and 1718."
The five Zelenka pieces in the recording are all lively pieces the composer wrote for banquets and parties. Even though Zelenka was based in Dresden for most of his life, these works were more for summer affairs in Vienna, where there was a long tradition of horn performance. "They were composed for the great hunting feasts that the Hapsburg monarchy liked to have in Vienna," says Abraham. "Zelenka worked the obvious ideas of the hunt into these pieces as part of the celebratory post-hunt banquets at which they would have been heard."
Abraham explains that while the music was meant for fun, it was extremely difficult to play. He says, "There were some incredible players at the time. So he wrote incredibly virtuosic suites. They usually start with a big overture and have dances that follow. In terms of the horn playing, there is really nothing else like it in all of the Baroque literature and beyond. The horn players have to play tremendously high and flying virtuosic parts. Frankly, the two horn players we had were the best in North America, and the principal horn was probably the only person in this hemisphere who could manage the part, let alone attempt to record it."
The CD is already receiving recognition. Its official release date was November 13, but iTunes had it up a week early on its "New and Noteworthy Classical" page. It is being carried worldwide through Naxos, and is on the Sono Luminus label, the well-known North American label for early music and folk performance that just received eight Grammy nominations for its work last year, including one for the Zelenka recording's producer Dan Merceriuo as Classical Producer of the Year.
The recording is available on iTunes, but the physical CD comes with a second CD with Blu-ray surround sound recorded in both 5.1 and 7.1 surround, as well as extensive notes and pictures of the ensemble recording in the studio.
More information is available at Bach Sinfonia. That site also has information about the CD.