Research
AU Project 2030 Looks to Future of Scholarly Research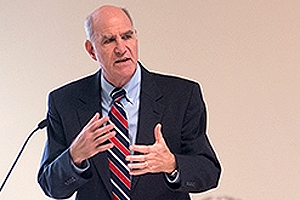 As the name suggests, AU Project 2030 is looking ahead. By that time, young people born now will be college-age. Professors who are now junior faculty will be senior academics and will be at the apexes of their fields.
"We have to look beyond what is current and look ahead to what's the future," said Provost Scott Bass, in a Books & Beyond presentation hosted recently by the University Library.
WATCH: View Books & Beyond Session

In order to position AU as a leader in emerging fields of scholarly research, the university first had to identify current areas of faculty interest and expertise to invest in. To that end, the provost's office put out a call for project proposals that would ideally contain some interdisciplinary element to encourage cross-department and school collaboration.
Some of the themes that bubbled up include behavioral and cognitive neuroscience; Big Data; decision science for policy; environmental studies; global disability policy, technology and education; global economic and financial governance; human security; metropolitan studies; and persuasive gaming technology.
"We want to provide energy and support for research faculty want to pursue," Bass said, adding that identifying these academic clusters where AU can excel will help guide future hiring.
On Wednesday, Bass introduced two projects currently in progress that sprang from the AU Project 2030 initiative, which launched a year ago. The first was "Ennobling and Enabling: Walking the Talk of Disability Technology, Policy, and Education," a collaboration between Derrick Cogburn, associate professor in the School of International Service; Laura DeNardis, associate professor in the School of Communication; and Sarah Irvine Belson, dean of the School of Education, Teaching and Health.

The research team's talk provided the groundwork for the three key elements of the project. Cogburn, speaking from Myanmar via Blackboard Collaborate, discussed the global disability environment and cyberinfrastructure and explained how this field is an interdisciplinary "Grand Challenge." 
DeNardis spoke about Internet governance as it relates to global standards for accessibility of the Internet, information and communication technologies.
Finally, Belson illustrated how creating educational opportunity for children with disabilities is a key aspect of basic human rights. All of their talks touched on proposed next steps, including how to integrate these themes into graduate studies and how to build AU up as a leader in this field.
The second project presented was "The Environmental and Biological Bases of Cognitive Dementia." Anthony Riley, professor and chair of the department of psychology, and Terry Davidson, professor and director of the Center for Behavioral Neuroscience, are heading up the project, which investigates "one of the most costly, pernicious, and widespread threats to human health." 
By 2030, the incidence of Alzheimer's disease and cognitive dementia is expected to double, so the need to discover the root of these disorders is critical. Their talk looked at evidence that links brain pathology and cognitive decline to the consumption of diets that are known to produce obesity and to the use of certain addictive drugs. These drugs and diet weaken the brain's defenses, which lead to abnormalities that impair cognitive functioning, according to Riley and Davidson.
Their research will help position AU as a leading center on dementia and cognitive decline.