Arts
Audio Technology Alumna's Career Path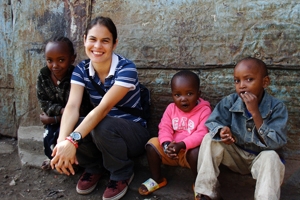 Ana Cetina always knew she wanted to be involved in the music industry, and so her choice to major in audio technology as an undergraduate at AU was no surprise.
But her minor in applied physics was.
"When I first started at AU, I was not expecting to take more physics classes than was required for the major," Cetina '05 said. "I didn't think I would enjoy them."
A physics class with Theresa Larkin changed that, though.
"Her passion for physics was contagious and she made me realize how important it was to understand the science of sound as well as the artistic side to become a better audio engineer," Cetina said.
Cetina's first teaching experience was serving as a teacher's assistant in one of Larkin's physics classes during her last year at AU. Today, she teaches audio production classes in the Electronic Media and Film Department at Towson University. Cetina said the audio program at the school is evolving, and she takes "great pride in being a part of that refinement and progression for the benefit of our students."
While at AU, Cetina was able to get some "real world" experience working at the Greenberg Theatre for two years. She said that job influenced many of her future career decisions.
"I realized that there was a lot more to the audio field than just music recording," she said. "Although I still wanted to record music, I had a new passion for live sound and thoroughly enjoyed the excitement of mixing for a live audience."
After graduating from AU, Cetina earned an MFA in sound design from the Savannah College of Art and Design. She has a decade of professional experience working as an audio engineer, sound designer, and mixer.
Cetina also works in documentary filmmaking. She is currently working as the producer, director, and sound designer for a documentary in Nairobi, Kenya, called Endeleza. The film is still in the post-production stage, she said, but a shorter version of it, Rising to the Top, has been on television and won awards.
"The documentary follows the lives of four acrobats and dancers, their struggles while growing up in the slums of Nairobi, and their amazing performances," she said.
Cetina was recently back at the Greenberg as the sound designer for Cabaret. The theatre was celebrating its 10th anniversary by performing the same musical it opened with.
"Ten years ago, I was a student at AU and Cabaret was the first live performance I worked sound on, so it was very exciting for me to be a part of that," Cetina said.
She will return to the Greenberg Theatre again this fall to create the sound design for another musical.