On Campus
Dean Starr Delivers Fifth Annual Address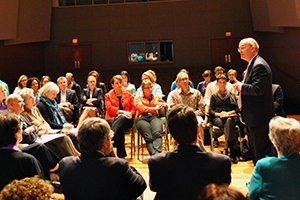 In a bright change in tradition, Dean Peter Starr turned his fifth annual address into a town hall meeting and brought the College of Arts and Sciences' faculty and staff up on the stage with him in the Abramson Family Recital Hall on April 23.
"It was a great opportunity to get everyone more directly involved in a discussion of upcoming goals, challenges, and priorities for the College," said Starr.
Surrounded by faculty and staff, Starr reviewed the College highlights of the year and discussed the findings from the Dean's Advisory Committee's most recent survey of College faculty.
"The College has reached new levels of excellence in many areas, including new hires, faculty honors and awards, innovative programs and initiatives, student achievement, and fundraising," said Starr. "At the same time, the survey identified areas for growth and will help us set faculty priorities for the next several years."
New Hires and Faculty Awards
"We had another strong recruiting year, which included hires from Yale, Princeton, the University of California–San Diego, the University of California–Santa Cruz, and the Rand Graduate School," he said. "We look forward to having these outstanding new faculty join us in the fall."
Starr also highlighted the accomplishments of current College faculty. This year, for the first time, five faculty members were named or served as presidents of their respective scholarly organizations:
Michael Brenner (Israeli studies), Leo Baeck Institute
Terry Davidson (psychology), Eastern Psychology Association
Martha Starr (economics), Association for Social Economics
Alan Kraut (history), Organization of American Historians
Robert Lerman (economics), President of the Society of Government Economists
Starr announced that four faculty members were awarded Fulbrights: Deborah Payne Fiske (literature), Max Paul Friedman (history), Adrienne Pine (anthropology), and Elizabeth Worden (SETH). In addition, Richard Breitman and Allan Lichtman (history) received a Tikkun Olam Award and the National Jewish Book Award for their book FDR and the Jews. Vivian Vasquez (SETH) received the Advancement of People of Color Leadership (APCL) Award from the National Council of Teachers of English (NCTE).
American University honored three College faculty for their outstanding teaching, research, and service. Max Paul Friedman (history) was named the American University Scholar/Teacher of the Year, the university's highest faculty award. Robert Blecker (economics), won the Outstanding Service to the University Community Award, and Yuliya Gorenman (performing arts) won an Outstanding Teaching in an Adjunct Appointment Award.
College faculty built on their strong record of winning research grants. Major research funding was won by Dave Culver (biology), Amos Golan (economics), Kiho Kim (environmental science), John Nolan (mathematics and statistics), Andrew Taylor (performing arts), and Paul Winters (economics), among many others.
New Programs and Initiatives
Starr noted the importance of innovation and collaboration in new programs and initiatives throughout the College.
New programs include a game design master's program with the School of Communication, an undergraduate neuroscience major, and three online master's degrees: teaching English as a foreign language (TEFL), nutrition education, and applied economics. In addition, work is well under way on the proposed CAS Leadership and Ethical Development (LEAD) program.
"Substantial progress has been made in gathering departments and programs together by similar disciplines to create purposeful learning spaces," said Starr. "These plans include a state-of-the-art science building on the future East Campus. This building illustrates that we are serious about the sciences and serious about pedagogical innovation. It will serve as an incubator for new collaboration among the sciences."
Student Achievement
Starr praised the faculty's efforts towards nurturing and supporting College students. "This year our student body included a Truman Scholar, a Udall Scholar, four Fulbright Scholars, seven Gilman Scholars, three Killam Fellows, and our third Rhodes finalist in as many years."
Alexis Dobbs, a College senior majoring in public health with a minor in biology, received the highest honor for undergraduate students: The President's Award, which is presented to a graduating senior whose accomplishments are considered exceptional and reflect American University's highest ideals.
Fundraising
It was a strong fundraising year for the College, with newly endowed scholarships for literature, psychology, special education, and the sciences. The highlight of the year was a naming gift from Carolyn Alper funding a space in the AU Museum to showcase art and artists from the Washington, D.C., area.
Dean's Advisory Committee (DAC) Report, Spring 2014
In fall 2013, the Dean's Advisory Committee conducted a survey of College faculty to gather information about widely shared suggestions and concerns for which it could identify concrete recommendations for action.
Starr turned over the meeting over to DAC committee chair Phil Johnson (physics) to present the survey findings and recommendations. Some of the recommendations are already being implemented, including creating a new faculty mentoring plan, expanding research and grant support, developing more opportunities for faculty recognition, and increasing efforts to help associate professors find a strong path to promotion. In addition, to promote innovative pedagogy and community building, the DAC recommended the College provide more opportunities for team-teaching and collaborative work, as well as more informal conversations and events for College faculty.
"I want to thank the DAC committee members for all their hard work on the survey, and for their clear, insightful, data-driven analysis of issues," said Starr. "I look forward to more discussion and faculty input, and to seeing these recommendations implemented across the College."