Achievements
Merit Award Winners Draw Inspiration from Their Communities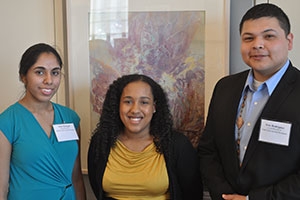 Eric Rodriguez, CAS/BA '14, aims to develop tribal policies that will better protect members of his Indian community. Chenoa Lee, SIS/CAS/BA '15, seeks to apply the environmental sustainability ethos of the Caribbean, where she grew up, on a global scale. Yanique Campbell, SIS/BA '13, aspires to advocate on Capitol Hill for immigrants like herself. And with the help of the national scholarships they have earned, these students can advance their academic and career interests and also benefit communities to which they are deeply committed.

Nationally competitive merit awards often recognize high-achieving students not just for their academic success, but for the constructiveness of their goals and their history of leadership and volunteerism. Some offer tuition assistance, but others provide professional development opportunities, academic mentoring, the chance to explore a different culture, and the opportunity to build academic skills. The process of developing a successful scholarship application essay often begins with thoughtfully evaluating your life experience and core values, and how they relate to your intellectual interests and match you to the selection criteria for the award, according to Paula Warrick, director of the Office of Merit Awards. Rodriguez, Lee, and Campbell have done just that.
MORE: Office of Merit Awards and other scholarship opportunities
For Rodriguez, who is a descendant of the Yakama Nation and is also Gros Ventre/Assiniboine from the Fort Belknap Indian Community in Montana, the Udall Foundation's focus on the Native American community hits close to home. As a Udall Scholar, Rodriguez will receive $5,000 for tuition and will attend a leadership retreat this summer in Tucson, Arizona, where he will meet other scholarship recipients and discuss tribal issues with policymakers and community leaders.

A former volunteer firefighter and police officer with the Yakama Nation and Pojoaque Pueblo Reservation in New Mexico, Rodriguez has long been passionate about community policing, and helped to set up a community coalition to address the high rate of teen suicides in the Yakama Nation. Once the coalition began teaching community members about suicide prevention and how to curb alcohol and substance abuse in youths, the teen suicide rate dropped—an accomplishment that furthered Rodriguez's interest in directly bettering his community. After graduating from AU, Rodriguez—who currently has a Department of Justice fellowship focused on providing Native American young professionals with skills in methamphetamine prevention and treatment, and who also writes grants and develops community policing webinars for other Native American reservations—plans to attend law school and become an assistant U.S. attorney so that he can eventually represent the Yakama Nation.

"Within Indian Country, we have federal laws and major crimes that occur on reservations and those are handled by federal courts, so an assistant U.S. attorney would prosecute those," Rodriguez says. "There aren't too many Native American assistant U.S. attorneys … so I do want to learn the federal courtroom experience. I want to be able to go back and build on that within the tribe."
MORE: Rodriguez's focus and the Udall Scholarship
A similar sense of giving back drove Lee's interest in the Charles B. Rangel International Affairs Summer Enrichment Program, an intensive six-week program designed to educate undergraduate students with classes and seminars and connect them with politicians, ambassadors, and other high-level figures in Washington, D.C. Lee, who grew up in the Caribbean—"the most beautiful and diverse place ever," she says—developed parallel interests in international and environmental affairs because of the region's multiculturalism and focus on sustainability. The Rangel Summer Enrichment Program, which Lee discovered during an Office of Merit Awards event, appealed to her enthusiasm for learning more about how environmental policy can work on a worldwide scale.

"I knew I wanted to do something international, but I didn't know how I was going to do it: Was I going to focus on the environment? Was I going to go to the business sustainability sector?" Lee says of how she considered fusing her interests. "I think [through] this program—because it's networking, it's professional development, it's exploratory—I'll be able to decide what I want to do."

Campbell, who was a Rangel Summer Enrichment Program Fellow in 2012, parlayed that experience into an internship at the Embassy of New Zealand during her senior year. After graduating from AU in May, Campbell will return to Spain, where she studied abroad in spring 2012, to serve as an English Teaching Assistant with the Fulbright Program; she also plans to continue working on research related to the country's immigration process, which she began as an intern with Spain's Federation of Human Rights. An immigrant herself from Jamaica, Campbell is passionate about such advocacy and has thoughts about securing a job with Congress to further dedicate herself to the issue when she returns to the United States after her Fulbright.

"There are a lot of things to be done here [with U.S. immigration], but I definitely feel like my counterparts in Spain are in more dire straits than I was when I first came to America," says Campbell.
MORE: AU Named a Top Producer of Fulbright Scholars
Although each student's scholarship and fellowship experiences vary, they all acknowledge how integral working with the Office of Merit Awards was to channeling their diverse experiences into applications that reflected their particular strengths, they said.