Student Life
Eagles Rise: FSE 25 Years Later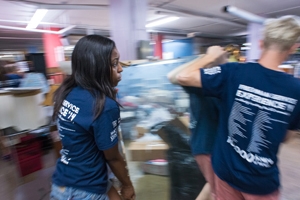 Twenty-five years pass and a new generation of AU students works to serve the community of the Washington, D.C., metropolitan area. Every year, American University freshmen travel all over D.C. to support and learn from communities across the city.
The Freshman Service Experience (FSE) was established in 1990 by Nanette Levinson, a School of International Service faculty member. Her goal of spreading passion for community involvement sparked a movement that has spread to colleges across the nation.
Since its initial composition of a few dozen students, FSE has matured into an army of servers nearly 700 strong. The selfless participation of more than 12,000 AU students during the past 25 years has provided more than 230,000 service hours to the D.C. metropolis.
The 25th annual Freshman Service Experience kicked off with powerful speeches from passionate individuals dedicated to the community of Washington, D.C., and the world. Alex Moore, a 2007 graduate of Ithaca College, spoke of the selflessness required in order to truly make a lasting difference. "Community service in America is often about the redemption of the giver and not the liberation of the receiver." Moore shared experiences he had while working in the DC Central Kitchen and his experience with other service-oriented non-profit organizations.
Meghan Rego, the program coordinator for community-based learning at American University, quoted Martin Luther King Jr. when she stated, "We often hate each other because we fear each other;we fear each other because we don't know each other;we don't know each other because we are so often separated from one another." She encouraged the 2014 FSE participants to communicate with community leaders in order to aid existing service efforts without hindering previous progress. Rego explained the value of calculated community work and the importance of working as a team.

Spanning across five neighborhoods and involving more than 50 community partners, the 25th annual FSE kept the ball rolling for community improvement. One group in the U Street/Shaw neighborhood travelled to Young Ladies of Tomorrow, an organization aimed to redirect the rocky courses of pre-adolescent and teenage girls who have become involved in the juvenile justice system. It offers young girls the resources and empowerment they need to become productive and healthy young women.
Founder and CEO Ms. Helen Wade established Young Ladies of Tomorrow to create a safe place for inner city girls. In an interview with an AU student, Wade emphasized the importance of collaboration with American University. Extending the radius of knowledge allows organizations like Young Ladies of Tomorrow to continue to grow.
Another group in the Northwest neighborhood visited Downtown Cluster's Geriatric Daycare. The center has provided therapeutic and support services to at-risk or disabled older adults since 1976. Much like Young Ladies of Tomorrow, the Geriatric Daycare provides a safe haven for those struggling with productive independence.
From public schools to churches to libraries to kitchens, the Freshman Service Experience has wound itself through the diverse neighborhoods of the DC metropolitan area. The snowball effect that resulted from the very first FSE shows no signs of slowing down. The Freshmen Service Experience: 25 years in the making—here's to 25 more.