Achievements
University CFO Receives Lifetime Achievement Award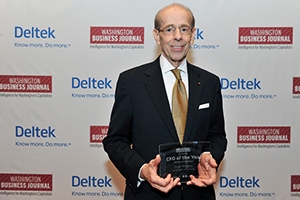 Don Myers, American University's CFO, vice president and treasurer, recently received the Lifetime Achievement Award from Washington Business Journal at the publication's CFO of the Year Awards 2013 ceremony. The award recognizes Myers' career in finance as well as his role as the architect of the university's financial infrastructure and strategy.
During his acceptance speech, Myers expressed gratitude to the Washington Business Journal for its recognition and thanked his peers, colleagues, and family. He recalled that he started his career at AU in an entry-level position with the primary goal of earning his MBA. He later realized that he could make an impact on the institution by helping it build its financial health and the facilities necessary to address its academic mission, resulting in Myers' highly-productive, four decades-long tenure at AU.
Myers expressed pride in the fact that during his 31 years as CFO, the university's endowment increased from $7 million to $500 million; the operating budget grew tenfold to $600 million; and total assets increased fourteen-fold to $1.4 billion. Since 1982, the university's facilities also doubled to four million square feet, with another one million square feet in development. Myers noted that, "It has been gratifying to help this great university to achieve such significant growth."
"I appreciate this award in a personal sense because it recognizes the goals I set for myself during my rewarding career at AU. It acknowledges what a great institution AU has become, and I am honored to have been a part of that," Myers said.
Visit Washington Business Journal's website to read about the CFO Awards, Myers' profile, and his interview.