Academics
BusinessWeek Ranks Kogod in Top 30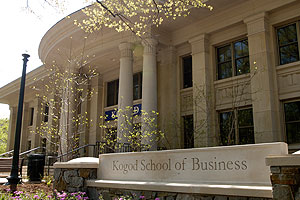 American University's Kogod School of Business ranks 28 out of 51 schools in BusinessWeek's fourth annual "The Best Undergraduate B-Schools" ranking. This marks the first time the ranking has included Kogod's undergraduate program.
"We believe in investing in our students," said Richard M. Durand, Robert and Arlene Kogod Dean of the Kogod School of Business. "Providing our students with the best resources, from outstanding faculty to a new facility in 2009, is a constant pursuit. Receiving this recognition from BusinessWeek is a wonderful acknowledgement of the Kogod community's commitment to our students."
Kogod comes in at 10 in the area of student surveys, which is based on feedback from the school's students. Kogod ranks at 27 for academic quality and 30 for the percentage of students who participate in internships. The school also received high marks from BusinessWeek for its teaching quality (A+) and job placement (A).
"This year's BusinessWeek ranking provides an exciting and new level of recognition to American University and the Kogod School of Business," said Lawrence P. Ward, associate dean for academic programs. "I am particularly proud of our 'top 10' student survey ranking, which amplifies all that our outstanding faculty and staff do on a daily basis to create and sustain a challenging, highly engaged, innovative, and rewarding academic experience for our students."
Kogod was one of three schools to make the ranking for the first time. Ohio University and Chapman University's Argyros School of Business and Economics were the others, coming in at 46 and 47 respectively.
BusinessWeek bases the ranking on nine measures, including surveys of 85,000 senior business majors and nearly 600 corporate recruiters, median starting salaries for graduates, and the number of graduates each program sends to top MBA programs. The academic quality rating for each program was calculated by combining SAT scores, student-faculty ratios, class size, the percentage of students with internships, and the number of hours students devote to class work.
"The Best Undergraduate B-Schools" is available in the March 9, 2009, issue of BusinessWeek.