Robert Book, Fund Manager
Born and raised in Southern California, Robert came to DC to pursue an undergraduate degree at AU. After completing the BSF program in May of 2013, he has gone on to pursue a Masters of Science in Accounting. In addition to his responsibilities with the SMIF, Robert is currently interning in equity research at Calvert Investments, the MS representative to the GBA, and a Graduate Assistant to a PMBA course. Post graduation, his goals include securing is CFA Charter and CPA License as well as a career in asset management. As Fund Manager, Robert hopes to maintain an enriching environment for the Fund's members as well as improve the Fund's attribution analysis and summer management. His extracurricular interests lie in the realms of sports, poker, fantasy, traveling and stewardship.
Nicholas Mairone, Portfolio Manager
Nicholas Mairone is a senior at American University in the Bachelor's of Science in Finance program. Originally a math major, Nick had a desire to apply his math to something and finance was an easy outlet for his desires. He has some work experience as a research assistant and current works as a portfolio analyst at a hedge fund in Spring Valley in Washington while finishing up his senior year courses. Nick dreams to one day own a private equity firm with a focus on Africa.

Maggie Moore, Investment Relations Officer
Maggie Moore is a senior in the Kogod School of Business double majoring in finance and economics. Returning to AU after a year at the London School of Economics, she is excited to be working as the Fund's Investment Relations Officer. After graduation Maggie plans to travel through the US before starting her full-time position with GE Capital in July. In her spare time Maggie enjoys following politics, reading, and cheering on the Pittsburgh Steelers.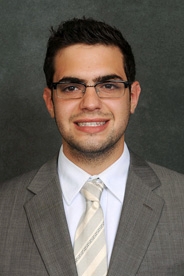 Diego Fabrega

Diego Fabrega, Operations Manager
Diego Fabrega is a senior in Kogod specializing in Finance and Entrepreneurship with a Minor in Economics. Outside of SMIF, he is part of the AU Rugby team and has interest in other sports, Latin American culture, and entrepreneurship. In the future he hopes to launch a Private Equity firm that specializes in companies based out of Latin America with the skills he has learned through Kogod classes and the SMIF.
Jonathan Wallen, Economist
Jonathan Wallen, a student of finance, economics, and mathematics, strives to develop quantitative analysis to guide decision-making. His research interests include economic forecasting, information rigidity, risk assessment, and commodities. He is presenting research on Central Bank Transparency and Information Rigidity in Survey Forecasts at the 2014 American Economic Association meeting.
Na Yang, Accountant
Creative, optimistic and adventurous, Na Yang is a full-time MSF program student entering her first semester as Accountant for the Student Managed Investment Fund (SMIF). Outside of SMIF, her interests include swimming, playing tennis, traveling to new countries, and cooking Chinese food. She likes to help others too. In the future, Na would like to work in a private equity or venture capital firm, helping valued start-ups to raise capital.