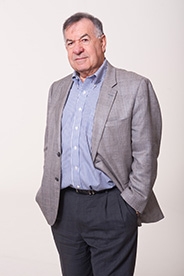 Spring 2015 Speaker

Ronnie Mervis
Co-owner and CEO of Mervis Diamonds

Wednesday, January 21
4-5 p.m.
Kogod Student Lounge
RSVP Now

Reception to immediately follow.

About the Speaker
Ronnie Mervis is the voice of diamonds in Washington, D.C. Well-known for his epic tales of diamond extraction from the mines in South Africa, he has built his family name to be synonymous with diamonds. 
Born and raised in the diamond business, Mervis channeled his entrepreneurial spirit into bringing the family trade to the U.S. The third-generation company now has locations in Rockville, Maryland and the District, in addition to the flagship location in Tysons Corner, Virginia. 
Maverick in approach and never scared to tinker, he changed the way diamonds are sold. With degrees in law and business, Mervis has carved a unique niche specializing in diamond engagement and wedding rings. 
Through the familiar refrain, "Nobody pays retail anymore, why should you?" Mervis Diamond Importers has sent 50,000 couples happily down the aisle. 
Mervis will speak on "Reflections on the Diamond World: Reality or Perception?"