Academics Success Story
Work hard and something will happen for you.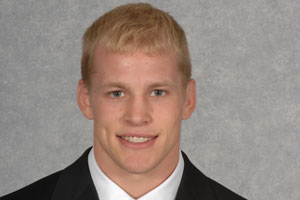 Determined and focused as his personal mantra, Kogod rising senior Mike Cannon knows what he wants to achieve as a student and an athlete. Named to the National Wrestling Association's All-Academic Team, Cannon is proving himself to be a serious contender in both arenas.
The accounting major was recognized with his teammates this year as the NWA's Champions of the Classroom with the highest GPA in all of Division I wrestling.  Cannon attributes his accomplishments at AU to his coach Mark Cody.  "Coach stresses the importance of success in the classroom as much as on the mat."
Success as a wrestler has been hard earned for Cannon. Growing up in southern Maryland he watched his father referee matches, learning the ins and outs of the sport from the sidelines. In high school, he pushed himself to dominate as a wrestler. "I always had success on the mat," he said.  "I was good, but not the best." 
Not coming in first fueled him, making him stronger both mentally and physically. "I would come back stronger, even though I had big loses."  He recalls that, "each loss gave me purpose." 
Senior year his hard work paid off.  Cannon went undefeated, was ranked first in Maryland, and twenty-ninth in the nation.
As a wrestler for AU, Cannon currently weighs in at 174 with a career record of 92-17. He ranks fourth all-time at American with his 92 career wins. Cannon is a two-time NCAA All-American, placing seventh as a 174-pounder at the NCAA Championships in 2009 and sixth place as a 165-pounder in 2008. He is the only recipient of multiple National Wrestling Coaches Association (NWCA) Academic All-American awards, having been recognized three times by the NWCA.
Cannon is the 2009 Eastern Intercollegiate Wrestling Association (EIWA) Champion, equivalent to AU's Patriot League Conference for other sports; as well as the 2008 Midlands Champion, three-time EIWA place winner and 2-time Midlands place winner.
Head Wrestling Coach Mark Cody characterizes Cannon as an ideal student athlete.
"He's everything you would want in a student athlete, very coachable on and off the mat. It is not very often as a coach you get an individual like Mike who does everything right—in the wrestling room, on competition day, and in the classroom," Cody remarked. "He's very good at getting across to the rest of the team, especially the young guys to train hard year round and prepare themselves early in the semester for classes."
Following graduation next year, Cannon hopes to stay involved with wrestling as a coach, but has his eye on a longer-term career goal of sitting for his CPA.
Wrestling has taught him life lessons that can be applied in the business world, "when things get hard, you don't let it defeat you."