Student Success Story
From Washington DC to Southern California, and back again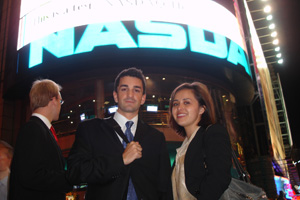 When Andy Gierman arrived at Kogod as a freshman, it was the first time the Redondo Beach, Calif. native had been further east than Las Vegas. She adapted well, studying business, competing on the soccer team and soaking up the politics of the nation's capital. But she also missed west coast so much that she transferred to Santa Monica College in her sophomore year.

Once back in familiar sunny California, however, she started to miss Kogod's small intimate classes, its unusually accessible professors and its proximity to the power centers of Washington D.C. and New York.

"I thought, where else will a professor give you their personal cell phone number? It's so neat here how everyone really wants you to do well," Gierman recalls. She also thought about practical career considerations and the way Kogod, because of its location, could offer so many internship opportunities during the school year.

"Thankfully I was accepted again," she says of her decision to go back to Kogod in her junior year. "I realized there was such a community here, it was like a family."

Now a senior, Gierman says she has spent the past two years taking advantage of every opportunity to learn about business in and outside of the classroom. She spent a winter break on a 10-day trip to Argentina, where students met with local businesses, and then took part in a similar trip to Wall Street, which she says gave her a clearer sense of what a career in finance would entail.

One of the best things about Kogod, she says, is that there were so many opportunities right in town. On different class trips, she visited the Supreme Court, the House of Representatives and the U.S. Senate. "We went everywhere," she says.