Student Success Story
A filmmaker with a plan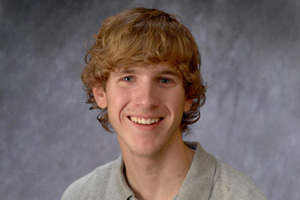 Aspiring filmmaker Kenton Bartlett doesn't think he needs to start out as a starving artist in order to pursue a career in the arts. The Kogod student, who plans to make a full-length feature film after he graduates in the spring, has already created a website to solicit donations for the $80,000 he estimates the project will require.

He also designed the film's plot and setting in a way to minimize the costs that often leave young filmmakers maxed out on their credit cards. Bartlett came up with a story line that involved a small number of characters and had an outdoors setting, in order to save money on cast and the higher costs associated with filming indoors.

These kind of financial considerations are often the things artists just starting out learn from experience; Bartlett says the courses he took at Kogod underscored how money is at the core of many of the most creative endeavors. In one recent Business Policy and Strategy Course that required students to write and present a business plan, Bartlett used the opportunity to put together a proposal for his film as if he were presenting it to a major Hollywood studio.

"I think it's completely pivotal," Bartlett says of the role of business in filmmaking.

When he arrived as a freshman at Kogod, Bartlett had plans of becoming a film critic, but as he took more courses in American University's School of Communication, an interest in actually making films gradually unfolded. He will graduate with a degree in Film and Media from the School of Communication and another degree in the Business of Film, from Kogod. For pulling off this somewhat unusual course of study, Bartlett credits Kogod's hands-on faculty advising system and his own advisor Jesse Boeding. "There are not enough nice things I can say about her," he says.