Student Success Story
From liberal arts, to politics to an MBA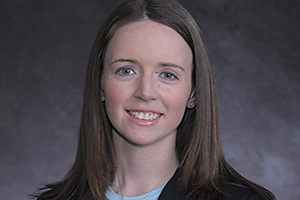 Some people are born business leaders; for others, the interest in business and the confidence to pursue it emerges gradually.

Caitlin Simpson, a first-year MBA student at Kogod, falls into the second camp. Simpson studied political science and communications and French as an undergraduate at Villanova University, and then spent three years working in the office of U.S. Senator Dianne Feinstein as an assistant to the chief of staff.

As a young professional working in Washington, DC, she began evaluating her longer-term career prospects, and thought more and more about pursuing a formal degree in business. But she was unsure if her decidedly non-business background would put her at a disadvantage in an MBA program.

At Kogod, she found administrators and professors who were available to help in her transition, starting with the application process and continuing in the classroom and around campus. "The professors are really accessible, and the school offers lots of ways to get involved in general."

Once she enrolled, Simpson found the same sense of community at Kogod that she had enjoyed in college. She has already joined the Graduate Business Association, which serves as the representative voice for all graduate students, and has become Kogod Graduate Ambassador who meets with prospective students to help them understand the academic programs and the Kogod community.

Simpson is currently working her way through her first-year course requirements in standard business topics such as finance, accounting and statistics, and by her own admission, still has a lot to learn.

But she knows that some of that learning will occur outside of the classroom. She plans to find an internship during her second year to pick up the real world experience that will round out her learning, help her network and identify some job leads in the management consulting field.

For Simpson, Kogod's strength comes from the whole package of an accessible faculty, an engaged student body, and the school's focus on taking learning beyond the classroom.

"There's something for everyone here," she says.