Student Success Story
To Senegal on a shoestring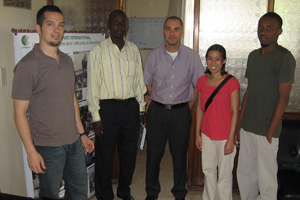 As a student studying for a dual MA/MBA degree from Kogod and American University's School of International Service, Joseph Sidari was always looking for ways to apply his classroom learning to a real-life setting.

He found that last year on a tomato farm in Senegal, where he and two other students from the MBA program, Krissa Lum and Fadel Kane, immersed themselves in the economics of the Senegalese farming system and met with officials from the World Bank, the U.S. Agency for International Development, as well as individual farmers, to discuss ways to improve the livelihood of small local farmers.

Although the students took the initiative in planning the trip, they enlisted the help of a Kogod professor. Before traveling, they pitched the idea to Kogod's Dean and managed to secure a grant covering their airfare. Since Kane was a Senegalese national, the three were able to stay with his family, keeping their travel expenses to a minimum and serving as an inspiration to other students deterred by the cost of international study projects.

The real inspiration, though, was how Sidari, Lum and Kane gained a concrete understanding of an obscure African business that rarely makes it into American text books. He is now preparing a paper with recommendations on how the Senegalese farmers might make more profit from their crop while also contemplating career options in international business.

"The trip really showed me how business is compatible with helping people," says Sidari.