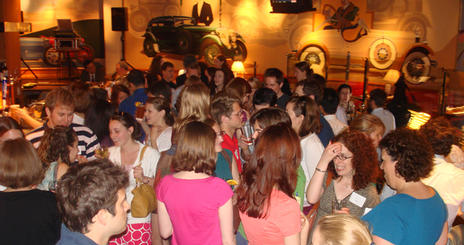 AU Honors is dedicated to fostering a lifelong community of scholars. There are several ways an Honors Alum can reconnect with the program:
Follow us on Social Media

Join the Honors and Scholars Alumni Network page and follow our AU Honors page to receive major program updates, find out information on reunion and networking events, and rediscover old friendships.
You can also follow Honors on Instagram @AUHonors

Reunion/Networking Events
The AU Honors Program encourages its graduates to participate in the many networking opportunities sponsored by the AU Honors and Scholars Alumni Network throughout the year. Connect with students, fellow alumni, faculty, staff and employers, while enjoying complimentary hors d'oeuvres and other refreshments.

Donate
One great way to show appreciation for your experience in Honors is to share it with the next generation through a financial contribution in any amount to the Honors Program.
You can be sure that Honors will make full use of your contribution to continue to foster the special learning community that you experienced as a member of the AU Honors Program.
To make a donation, visit the Giving to AU link. From the list of Designations options, write "AU Honors" in the blank box after "Please specify here."