On Campus
Through MLK's Eyes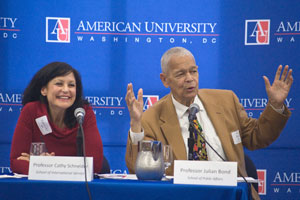 The importance of the civil rights movement transcends U.S. history. Movements around the world, from Prague to Chile, have been inspired by it.
Yet coming out of high school, most American students know little about the movement or its meaning.
Those were among the observations a distinguished panel presented at "Envisioning Our World through the Eyes of Dr. Martin Luther King," an October 5 campus event for AU Honors Program freshmen that featured Julian Bond, a distinguished adjunct professor in AU's School of Public Affairs, chairman of the board of the NAACP board of directors from 1998 to 2010, and longtime activist in the civil rights movement.
Moderator Jane Hall of the School of Communication asked the panelists: What compelling themes did King address?
"I think he was a simple man," Bond said. "I don't mean simple-minded by any means but a man who thought in simple terms and who tried to explain things in simple terms so that everyone could understand it. So if I say he believed in fighting against war and for peace, fighting against injustice and for justice, that for me sums up the totality of Martin Luther King."
While criticizing the controversial misquotation engraved on the side of the new sculpture of King in Washington, D.C., Bond urged students to visit the memorial, which he called "a stunning piece." 
Panelist Cathy Schneider, a professor in the School of International Service, noted that the civil rights movement that King was a vital part of reverberated throughout the world inspiring movements in Northern Ireland, in Prague, in Paris.
But in the United States it had an effect beyond the civil rights of African Americans. It was a precursor to the antiwar movement as well as movements for rights for women, gay men and lesbians, Chicanos, and Puerto Ricans.
"I would say that key themes that the civil rights epitomized to people were these," Schneider said. "First would be a loose-structured movement with multiple leaders, an empowering structure based on helping people who had been stigmatized, impoverished, or disenfranchised realize their own collective capacity. It was based on nonviolence in the face of violence, and it was based on appealing for support based on people's sense of justice and moral outrage."
Yet even today race remains an uncomfortable topic for many students, said panelist Joshua Woodfork, a professor in the College of Arts and Sciences' Department of Anthropology. Students are often uncomfortable discussing issues surrounding race and identity out of fear of offending people.
"Students are familiar with black culture but maybe not black history," Woodfork said. "Black culture when it comes to hip hop and entertainment, in athletics, in other forms of culture are intricately intertwined with U.S. culture. I think it would be hard to separate them and parse them out."
Citing a recent report released by the Southern Poverty Law Center, on whose board of directors he serves, Bond noted that most high school students are taught little about U.S. history in general and civil rights history in particular. 
The report, "Teaching the Movement: The State of Civil Rights Education in the United States 2011," resulted from a review of the coverage of the civil rights movement in state educational standards and curriculum frameworks. Most states, especially states outside of the South, did not fare well.
The report gave Maryland and Virginia C's. The District of Columbia received a D, along with Massachusetts, Arizona, and Arkansas. Most states received a failing grade. Only Alabama, New York, and Florida received A's.
Of high-school-age and younger students the report said "you know two names, they're Rosa Parks and Martin Luther King, and you know four words, and they are 'I have a dream,'" Bond said.
Charging students to get involved, to do more than merely attend rallies and talks, Bond said, "I'm 71 years old and I've been teaching here for about 20 years and at various schools around the country for almost half that time, and I look out at my students who look like you because they are you . . . and I ask myself this question: 'Am I part of the last generation of American young people who mobilized against white supremacy? Is that my legacy, that I'm part of the last generation that did that?'"

American Forum with Julian Bond, also moderated by Jane Hall, can be seen at NBC4 online. That program will be available as well in the Washington, D.C., area on NBC's non-stop digital channel at 8:30 a.m. on Thursday, October 20, and Friday, Oct. 21. It will also be broadcast at 7 p.m. each evening on Monday, October 24; Tuesday, October 25; and Wednesday, October 26 (Comcast 208, Verizon FIOS 460, Cox 803, RCN [varies by location], and Over-the-Air Digital Channel 4.2).