On Campus
Student Run and Student Led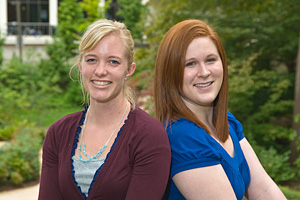 The Honors 101 program, part of the American University Honors Program, has a distinctly AU character.
It's both led and run by students.
"At American University, especially in the Honors Program, we like to give smart, motivated students an opportunity to take on challenges," Michael Manson, interim director of the AU Honors Program, told the approximately 200 honors freshmen who attended the program's October 5 panel discussion on the struggle for civil rights.
The panel featured Julian Bond, a distinguished professor in AU's School of Public Affairs and a longtime civil rights activist.
"If you're looking for an example," Manson said, "I'd point you to Alyssa Briggs and Rachel White and to the event they've created . . . When Rachel and Alyssa became the leaders of the Honors 101 mentorship program, all we told them was that they would have to create an all-freshman event that was academic in some way. That was all. They came up with the rest."
White '13, who is majoring in political science and public communication, and Briggs '14, majoring in international studies and business, were drawn to the topic after Hurricane Irene forced a delay in the dedication of the Martin Luther King Jr. memorial in Washington, D.C.
"In light of recent youth movements across the world and the controversy about the MLK memorial [referring to the engraving of a flawed shortening of a King quotation], we felt a discussion about [King's] legacy today would be engaging and push intellectual boundaries," Briggs said.
The Honors Program staff helped them further develop the direction of the panel, and with the staff's help, as well as suggestions from Larry Thomas, inaugural director of the Frederick Douglass Distinguished Scholars Program, and Tiffany Speaks, director of Multicultural Affairs, they settled on speakers.
The panelists sparked a lively discussion, and more than 40 honors students submitted written questions. Many of them stayed after the event to speak with the panelists, who in addition to Bond included Cathy Schneider of the School of International Service and Joshua Woodfork of the College of Arts and Sciences' Department of Anthropology. The School of Communication's Jane Hall moderated the event.
"Rachel and I felt that our generation was not represented when we were discussing fighting for our rights and fighting for justice," Briggs said at the conclusion of the panel discussion.
"We really felt that our generation has made a significant impact and we also felt that our impact has largely been ignored by the generations before us. So I'm excited to see that everyone here has been engaged with this panel discussion and has had the courage and the willingness to speak up about what they feel and what they believe." —CS