"Honors 101" Students, Mentors, Welcomed to SIS
By Annie Lyon, CAS/MA '03
September 16, 2010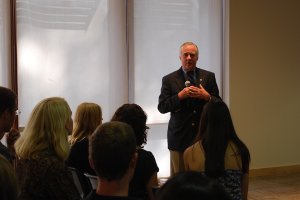 The School of International Service (SIS) greeted its Honors Program students in an informal yet informative gathering in the new building's Founders Room. The reception welcomed freshman and transfer students and their mentors, advisors, and faculty.
Emcee Ambassador-in-Residence Anthony Quainton spoke glowingly of the SIS experience and urged students to become involved in the life of the school. "What makes this place exciting is the array of issues," he explained, noting that the faculty present represented "an extraordinary array of men and women."
Students enrolled in the University Honors Program, which, according to the Program's website, "encourages intellectual distinction and fosters academic excellence through selected courses," enjoy the advantage of smaller class sizes and priority course registration, among other perks. Honors Program students may also take special colloquia classes in addition to the General Education requirements; courses offered in the fall 2010 semester include "Understanding Baby Boomers," The Ethics of Killing," and "Muslims in America." Most of the Honors students also live together on specially-allocated residence hall floors. "They really mentor you here – there's a lot of collaboration," said Matt Bowers, SIS/BA '14.
But the true draw of the Honors Program, to many students, is the flexibility it gives for them to explore their interests as their college careers continue.
"I'm looking forward to getting exactly what I want out of college," freshman Elizabeth Seeger, SIS/BA '14, said confidently.
And what is that?
"That's what I'm here to find out."