Research
Banner Year for History Faculty Books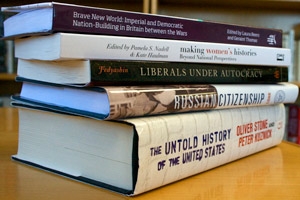 The College's Department of History has just made some history of its own.
During the past year, five faculty-authored and three faculty-coedited books have been published, an impressive feat considering that researching, writing, and publishing an academic book can take 10 years.
"It's astonishing the number of people who have books out," says Pamela Nadell, the department chair who herself coedited a book published this year "I've been at AU for over 30 years, but I don't recall a year like this." 
How to explain it?
"Some of it is about the new faculty who have joined us, like Anton Fedyashin, who are remarkably productive," Nadell says. "But there's also an exciting synergy in the department. Richard and Allan's book [Distinguished Professors Breitman and Lichtman's FDR and the Jews], for example, came out of a friendship of more than three decades." Here's a brief rundown of the Department of History's crowded shelf of recently published books, starting with those authored by faculty members:
Richard Breitman and Allan J. Lichtman:
FDR and the Jews (Belknap/Harvard)
Discovering "a previously unknown document reconstructing an April 1938 conversation in which FDR said he would like to get all the Jews out of Europe," combined with other previously unavailable sources, says Breitman, "convinced me that one could now do a more nuanced and thorough study of Roosevelt, showing how his attitudes and policies evolved over time. When I decided that I had to do Roosevelt's early life and politics in great depth, I went to the best American political historian I know: my friend and colleague Allan Lichtman. Allan agreed to work with me, and FDR and the Jews is the product of an equal partnership."
Anton Fedyashin:
Liberals under Autocracy: Modernization and Civil Society in Russia,1866–1904 (University of Wisconsin)
"I wanted to examine the vibrant liberal culture that flourished in the late imperial era, chronicling its contributions to Russia's rich literary culture, political philosophy, and social trends. I also wanted to challenge assumptions about Russia's intellectual history and cast the country's nascent liberalism as a distinctly Russian blend of self-governance, populism, and other cultural traditions. The book stands as a contribution to the literature on imperial Russia's nonrevolutionary intellectual movements that emphasized the role of local politics in modernization and the evolution of civil society in an extraparliamentary environment."
Max Paul Friedman:
Rethinking Anti-Americanism: The History of an Exceptional Concept in American Foreign Relations (Cambridge)
Explaining the impetus for writing his book, Friedman recalls Jacques Chirac's attempt, based on the French president's experience as a conscript in Algeria, to warn the United States against getting involved in a war in Iraq—and the subsequent irrational American umbrage (freedom fries, calls to dig up fallen soldiers from their graves in Normandy) which led him to French president Charles DeGaulle's eerily similar warning in 1961 to President Kennedy about going into Vietnam.
"And you know what a lot of Americans did?" Friedman asks. "They burned French flags, they poured good wine down the drain. A member of Congress, I kid you not, gave a speech saying we should dig up our boys from Normandy and bring them home because French soil was no longer a fit resting place for our American heroes."
Peter Kuznick and Oliver Stone (director):
The Untold History of the United States (Gallery Books)
The collaboration between Kuznick and Academy Award–winning director Stone produced a companion volume for a 10-part Showtime documentary series.
"It's been a great project," Kuznick says. "Eight of my grad students have worked on it, mostly as paid researchers, and I've had a lot of input from other graduate students and some undergraduates who have assisted in other and ways. And I couldn't have done it without my history department colleagues. It's an enormous project."
Eric Lohr:
Russian Citizenship: From Empire to Soviet Union (Harvard)
"I entered Russian studies right when the Soviet Union collapsed and questions of citizenship and nationality were in the headlines every day, yet historical study of the region was largely focused on other issues. No one had written a history of Russian citizenship. I was able to find sources that had not yet been studied. It proved to be a very complicated topic that required many subsequent trips to the Russian archives." 
Here are the department's current faculty-coedited books:
Laura Beers and Geraint Thomas:
Brave New World: Imperial and Democratic Nation-Building in Britain between the Wars (Institute of Historical Research)
"Brave New World grew out of a conference which [we] organized at Newnham College, Cambridge, in April 2009 to encourage dialogue between young scholars based primarily in the U.S. and Britain. Several themes emerged, notably the changing role of national and imperial identity in post-WWI Britain. The book attempts to draw out this theme and tell a broader story about the complex relationship between nationalism, communication, and modernity."
Alan Kraut and David A. Gerber (SUNY–Buffalo): Ethnic Historians and the Mainstream: Shaping the Nation's Immigration Story (Rutgers University Press)
Eleven autobiographical essays by historians, including Kraut and National Jewish Book Award winner Deborah Dash Moore, explain how their authors' ethnic backgrounds influenced their scholarly work.
Pamela S. Nadell and Kate Haulman:
Making Women's Histories: Beyond National Perspective (NYU)
In their introduction, Nadell and Haulman write that the collected essays examine a world in which women and their ideas were routinely ignored, a "world transformed by considering the intellectual and political production of women's history across time and space. In 10 chapters, scholars, who have all published significant works in women's and gender history in diverse national, imperial, and geographic contexts, stand atop historiographically defined vantage points, including Tsarist Russia, the British empire in Egypt and India, Qing dynasty China, and the U.S. roiling through the 1960s."