Alumni Profile
Profile Gordon Paisley, SIS/BA '92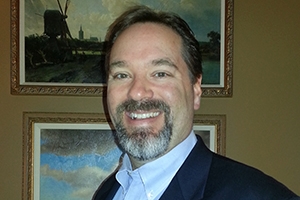 Current title and organization:
Program Manager, HR Project Quality, United Airlines. I am leading a series of projects designed to improve how HR delivers various services to the 84,000+ employees of United Airlines. We are creating opportunities to simplify services, use technology better, reduce costs and improve the employee experience to ultimately deliver better service to our customers.
Degree(s) and grad year(s):
BA, International Relations, 1992
What was one turning point that influenced my professional path?
I was downsized by my employer several years ago with little warning. After a few months, I was hired into General Electric as a Six Sigma Black Belt, a role which not only fit my personality and strengths perfectly, but which later opened the opportunity at United Airlines to me. It was very difficult on my family and me at the time to go through this and to have to relocate, but turned out to be one of the best things that ever happened to my career. I realized that far more important than what happens in my career is how I respond to what happens and how I adapt and engage with my new role to take full advantage of the opportunity.
Why I chose SIS?
I was very interested in international relations and even though I had looked at some other schools, I realized that Washington DC was the only place to go to school for my major. I appreciated the variety and breadth across this field. I got to work with some fantastic faculty and students.
How I make a difference in the world?
My wife and I are raising our children to be global citizens by exposing them to other cultures via travel and developing a passion to serve others. We believe in the inherent worth and value of all human beings and seek to model that in all we do. Personally, I volunteer as an instructor/consultant with an organization that provides business education and consulting in developing countries.
Field of study?
I concentrated my study in foreign policy and quantitative research. I have continued to use this background in statistics and surveys in current role and role as a Six Sigma Black Belt.
World issue of interest?
The persecution and murder of Christians around the world.
Professional role model?
I always seek to learn something from everyone I work with.
Favorite book?
Truth and Transformation: A Manifesto for Ailing Nations by Vishal Mangalwadi and When Helping Hurts: How to Alleviate Poverty Without Hurting the Poor…or Yourself by Steve Corbett. These books have profoundly changed how I look at development and serving the world's poor.