Student Success Story
Battling Climate Change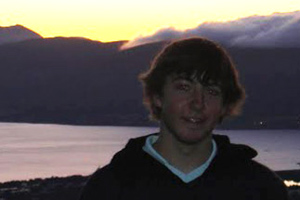 Alex Thorp's commitment to battling climate change is taking him places. Last summer, the sophomore environmental science major visited the Polar Institute in Tromsø, Norway, where he got to see the effects of climate change first hand.
While glacier climbing outside Tromsø, Thorp observed "a visible and exponential increase in the melting rate" over the past 70 years. "Our guide told us he goes to the glacier once a week and that every time he returns there are new visible signs of retreat both in terms of the glacier's width and thickness," he says.
Thorp was invited on the trip after winning an environmental essay contest sponsored by the Norwegian Embassy. Essayists addressed the prospect of new natural and commercial resources—including oil, natural gas, fisheries, and sea trade routes—becoming available as polar sea ice melts. But access to these new resources has a price. "Arctic organisms will be unable to survive the changes," Thorp says. "Warmer conditions push habitats farther north and the top tiers of Arctic consumers are funning out of things to feed on. In the case of fish, warmer water feeders are moving north and the Arctic feeders just can't compete with them."
Thorp's winning piece stressed collaboration and communication between the countries ringing the Arctic, Russia, Norway, Canada, the United States, and Greenland, an autonomous constituent country of Denmark. "Cooperation between the five Arctic countries in advance of these resources being made available is the only way it can work," Thorp says.
Thorp is an active member of the student group Eco Sense and participated in the Power Shift 2009 Conference, during which 12,000 young people met on Capitol Hill with an agenda of pressing lawmakers toward bolder, more effective environmental policies. In the Spring of 2010, he will attend Mount Allison University in Sackville, New Brunswick, as a Killiam Fellow. The fellowship, which funds a year of study at a Canadian university, is intended to foster a sense of community and understanding between the United States and Canada.