Alumni Profile
Geeta Raj, SIS/MA '03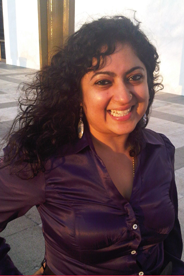 Why I chose SIS:
I chose SIS because of its excellent reputation, its location in Washington, DC and because the program bridged the theoretical - practical divide. Additionally, I had been living in London and was ready to be back in the States for a short while.
How I make a difference in the world:
I feel a responsibility to make a difference in the world in all I do and try to engage in. I don't mind being uncomfortable; I have the most impact when I'm operating outside of my comfort zone.
I am transitioning from 11 years of working in international affairs to launching a new start-up venture as an entrepreneur. I was a Senior Program Analyst with USAID for 8-9 years and have worked in South Sudan, Afghanistan, Kosovo, Bosnia and Herzegovina, Colombia, Bulgaria, Serbia, Albania and Montenegro.
I currently run The Global Sleepover, a digitally enhanced children's story series about four characters who go on sleepovers all over the world and learn about issues of global relevance. Our early stage business has an equal focus on education, entertainment and engagement with high, social-impact goals such as increased access to education.
I'm inspired by my late father who, despite growing up in refugee camps in India in the 50's, lived around the world and earned five degrees. He believed in the unequivocal power of education.
Field of Study:
English/Creative Writing and International Peace and Conflict Resolution
SIS Activities:
I launched a literary journal called "Chiroscuro" with a few other students. Our goal was to publish a journal that contained art pertaining to issues of human rights, war-to-peace transition and other important social issues. We received over 500 submissions and published one journal.  
Languages:
Hindi, Urdu, working knowledge of Spanish and basic Serbian  
World Issue of Interest:
Equal access to education for children, educating children with global understanding and global fluency, the important role of trauma recovery and healing at the individual level in refugee societies
Professional Role Model:
My journalism teacher from high school, who is retiring this year from 30 years of teaching. She is a true example of someone who is so dedicated to her profession that she lives and breathes it. She's my role model because she has succeeded in truly living up to her profession with integrity, passion and courage.

Favorite Book:
My favorite authors are poet Yusef Komunyakaaand Paul Auster. If I had to choose a book it would be "The New York Trilogy" by Paul Auster or "A Separate Peace" by John Knowles.
Favorite Movie:
"Lincoln" and "Rabbit Proof Fence" are on the top of my list!