Alumni Success Story
Award-Winning Project Investigates Military Science Equations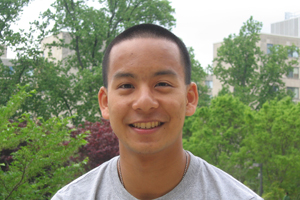 Applying traditional military science equations to the battlefield has become increasingly complicated in the contemporary age.
With asymmetrical fighting—the type of in-city combat characteristic of the current conflicts in Iraq and Afghanistan—the risk of non-combatant casualties and damage to civilian structures increases. "There are no clear battle lines or battlefields," says Jacob Choi, recent mathematics and secondary education graduate. "It's a very tricky thing to factor into the equation all the variables involved."
Choi's senior capstone project did just that. By manipulating two internationally-used military science equations—Lanchester's Linear Law and Lanchester's Square Law, both devised during World War I—to account for these variables, Choi devised a method through which these traditional equations could be used to estimate the effectiveness and force of troops engaged in contemporary warfare. His project received a 2009 Honors Capstone Research Conference Award.
Given the high stakes of warfare, being able to predict these factors via mathematical simulations is essential. "You can't exactly send 1000 instead of 2000 troops out there and say, 'Go fight, and we'll see what happens,'" says Choi.
While an AU student, Choi participated in the Army ROTC program. He also student taught math at nearby Bethesda-Chevy Chase High School during his senior year. He returned to his home state of Victoria, Australia, after graduation, where he plans to seek a position as an education officer in the Royal Australian army. "Education officers take all the information that soldiers need to know and figure out the best ways to teach it to them," Choi says. "That way they don't have to think about it when they are on the battlefield."