Student Success Story
Holocaust Studies on a Community Level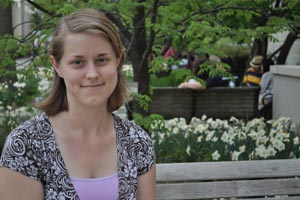 Even before coming to American University, senior honors student Julie Oswald had a strong interest in the history of the Holocaust. But after taking a class with Pamela Nadell, history professor and director of the Jewish Studies Program, Oswald's interest in the Holocaust and Jewish studies reached a new level. "[Professor Nadell] has helped me explore my interest," Oswald says. "To understand the Holocaust you need to understand the Jewish communities."
With Nadell's help, Oswald began an internship at the United States Holocaust Memorial Museum in the spring of her sophomore year. During her internship, she fielded inquiries from students and scholars who came to the museum looking for research resources.
Since her initial internship, Oswald has continued working at the museum—first as a volunteer, and currently as an archives intern. Her current work there involves cataloguing survivor accounts, as well as interviewing and recording histories to add to the museum's collection.
Throughout her years at American, Oswald has discovered her passion for studying the American Jewish Community as well. Oswald spent last summer in the Jewish community of South Beach, Florida, learning its members' stories. Composed mostly of retired workers, this prominent Jewish community has worked to leave its mark in Miami and to remember the Holocaust survivors among them and their relations.
Oswald has also worked with history professor Richard Breitman to examine how several U.S. states are incorporating the Holocaust into their school curriculums.
Oswald will be graduating this May with a BA in history and a minor in Jewish studies. She will begin a graduate degree in library sciences at the University of Maryland, College Park, this fall.