Student Success Story
Business and accounting lessons
from Spain and Chile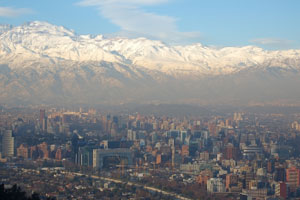 International business major Mary Aileen Murphy graduates from Kogod this spring with a full plate: a job in financial systems development at the U.S. Treasury Department, and plans to simultaneously pursue a masters in Information Systems and prepare for the CPA exam to become a certified public accountant.

While the job offer grew out of an internship the summer after her junior year, Murphy says it was two immersive study abroad programs that gave her the confidence to embark on new projects, and brought her text book understanding of business to life.

Murphy spent the winter break of her junior year traveling to Santiago, Chile with other Kogod students who met with a host of Chilean business leaders and even visited the local offices of the energy drink company Red Bull. From there, she went on to Madrid, Spain, spending spring semester at a prominent European business school.

"I definitely wanted to gain a perspective of how business operates in a different culture. But I gained a lot more than I expected," she says. "I learned that culture plays a larger role in business than I thought."

The cultural differences Murphy observed overseas touched every aspect of business, from customer service, to personal relationships with colleagues and customers.

"I think that outside of the U.S., everything is much more relationship-focused. Everything was much more relaxed," she says of the businesses she met in Chile.

Her own post-graduation schedule of working full time while simultaneously pursuing an advanced degree sounds anything but relaxing, but Murphy has longer term plans as well. Upon completing the CPA exam she hopes to return to Latin America and work in information technology.