University College: Join Us!

Fall 2015 course offerings are coming soon

American University's University College is a premier living, learning and laboratory experience that builds collaborative communities for first-year students. Explore the site to find out more about University College!
Check out what UC students are up to!

Recently, UC students have had the opportunity to observe Senators debating from the Senate gallery, visit the Supreme Court, and much more!

Want to be a PA?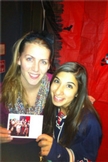 Learn more about the roles Program Assistants fill and how to become one!