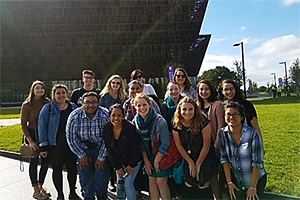 What is the University College Living Learning Community?
Students in the University College Living Learning Community (UC) will make new connections and fast friendships by participating in an academic living-learning community with other first-year students. As a UC student, you will take a unique Complex Problems course where you will approach intricate issues facing society with no clear solutions. When you choose the UC, you will live on a floor with students studying similar topics under one common theme. Living together with other students taking Complex Problems courses creates an exceptional scholarly environment where learning moves beyond the classroom.
Earn General Education credit
Enjoy small class sizes, with 19 or fewer students
Form a diverse and inclusive community with your University College Living Learning Community peers
Grow intellectually and personally through curricular and co-curricular experiences
Experience the support of a dedicated Faculty Fellow and Peer Mentor
Develop the skills and experiences that lead to future success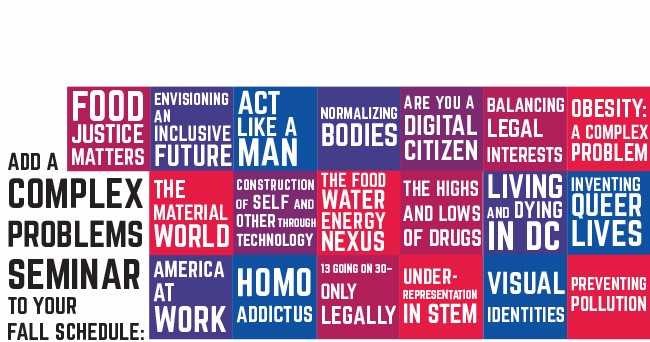 What is a Complex Problems First-Year Seminar?
All first year students are invited to register for a Complex Problems (CP) seminar. These seminars are introductory level general education courses designed for first semester students. Students in Complex Problems will learn unique ways to tackle enduring questions from diverse perspectives. Your Faculty Fellow will create opportunities for frequent class discussion and active learning, as well as opportunities to meet with individual students and groups throughout the semester. Most of the classes are held in Anderson or Letts halls, which are easily accessible from your residence hall room.
Additionally, CP courses have Peer Mentor (PM). Under the direction of your Faculty Fellow your PM will design thoughtful extra-curricular programming where you will engage with the resources and events of AU's campus and the greater Washington, DC community. Examples include: The Smithsonian Network of Museums, Embassies, Government Agencies, DC Neighborhoods, Non-profits, and Non-Governmental Organizations.
For a full list of UC Complex Problems seminars, please visit our Complex Problems Courses tab.