Research
Library Announces Winners of the 2011 Undergraduate Research Awards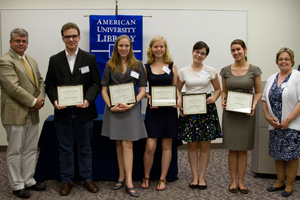 Congratulations to Casey Petroff and Lorraine Holmes, Winners of the 2011 American University Library Prizes
The Library is pleased to announce the winners of the 2011 University Library Prizes for Outstanding Undergraduate and College Writing Research Papers and Projects. A $1000 prize was awarded in each of two categories: Best Undergraduate Research Paper or Project and Best College Writing Research Paper or Project. The purpose of the prizes are to recognize and award American University undergraduate students who make extensive use of the University Library's collections and show evidence of critical analysis in their research skills, including locating, selecting, evaluating and synthesizing information.
This year's winner of the University Library Prize for Best College Writing Research Paper or Project is Lorraine Holmes who is recognized for her paper, The United State Holocaust Memorial Museum.
Honorable Mention in this category went to Caroline Marsh for her paper, Minimalism Prevents Minimizing which discussed the Vietnam War Memorial.
The winner of the University Library Prize for Best Undergraduate Research Paper or Project is Casey Petroff who wrote a paper, The Ends and the Means: Energy Policy and the Collapse of the Soviet Union for Professor Anton Fedyashin's course on Russia and the Origins of Continental Eurasia. Honorable Mentions in this category went to Leah Pope for her research paper, On the Piety of Women in Professor Michael Wenthe's class, Topics in Medieval Literature: The Monstrous and the Other, and Gregory Chapman whose paper, "Old Isaiah" the Reticent and the Gathering Storm was researched for Professor Allan Lichtman's class, FDR, Jews, and the Holocaust.
Thirty-four students received recommendations from their faculty sponsors and submitted essays about their research process as well as their papers. A team of librarians and faculty reviewed the papers, assessing them against the following criteria:

Substantial use of library resources and collections in any format, including but not limited to printed resources, databases, primary resources, and materials in all media;
Ability to locate, select, evaluate, and synthesize library resources and to use them in the creation of a project that shows originality and/or has the potential to lead to original research in the future;
Evidence of significant personal learning and the development of a habit of research and inquiry that shows the likelihood of persisting in the future; and
Originality of thought, mastery of content appropriate to class level, clear writing and a high quality of presentation.
Reviewers agreed that the caliber of the papers was very high and the selection process was a challenging one. Winners were honored at an awards ceremony luncheon in the Library on April 26.