Achievements
AU Library Wins National Awards for Annual Report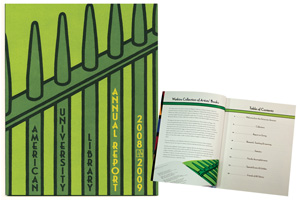 AU Library's 2009 Public Annual Report recently received top recognition in three national competitions: the American InHouse Design Award from Graphic Design USA magazine, the Award of Excellence in the Communicator Awards by the International Academy of Visual Arts, and the Best of Show Annual Report from the American Library Association.
Library Designer Jonathan Silberman and Librarian and editor Patricia West worked closely with the Library Administration to create this annual publication that informs the university community and Friends of AU Library about noteworthy achievements in library services and collections. Images used in the report are drawn from a fine arts book held in the University Library's Special Collections and feature works by English printmaker and painter Patrick Caulfield.
Copies of the Library Annual Report may be obtained by calling 202-885-3235.