On Campus
Have You Chatted Online with a Librarian Lately?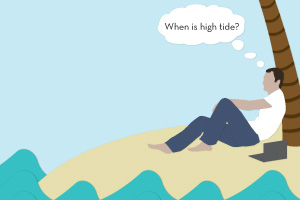 True or False Quiz
My life is too busy so I don't have time to stop by the Reference Desk in the library.
I know my papers could be better if I didn't rely quite as much on Google.
My professor(s) are urging me to use more scholarly sources.
I use the same databases over and over again, no matter what courses I am taking.
I find it difficult to locate statistics to support my research paper arguments.
I am out-of-town or in another country.
I have research papers to write, and I don't know where to start.
I know the information is out there, but I can't find it.
I sometimes need help to search library databases.
I sometimes have questions about library policies or procedures or just finding where stuff is.
If you responded "true" to any of the questions above, you might need the services of a reference librarian. But if you don't have time to visit the Reference Desk—no worries—you have dedicated, experienced library staff on call for instant online chat service, no matter where you are, for many hours of the day. Librarians can chat with you online no matter where you are, on-campus or off-campus, even in the library or on the quad. You can text us too at 571-766-6349.
Students Like Online Research Chat
Hundreds of you have tried the service, and you seem to like the results. Read some typical responses from AU students about online librarian chats:
Thanks a ton!

Oh wow! This list is really amazing! Thank you so much once again!

Thanks a million! You've been a lot of help!

Perfect! Thank you so much for your help.

Sweet. Thanks.

Good lord. It's there!

Awesome! Thanks so much. This has been a huge help.

Oooh this is great.

Thank you for helping me get there!

Good! Someone told me the wisest and most kind persons are hiding in the library!
With results like these, AU librarians want to make sure that all students know you have access to this kind of help. Your academic success is our mission. Whether you prefer to chat online at www.library.american.edu/ask or to stop by the Reference Desk and talk in person, you can go beyond Google, and make your spring semester research papers better.

Hours for chat services are as follows:
Monday-Thursday: Noon–9pm
Friday: Noon–5pm
Reference desk hours are:
Monday through Thursday 10am–9pm
Friday 10am–6pm
Saturday 1pm–6pm
Sunday Noon–8pm
Bonus Feature: Sample Research Questions
Here are some examples of actual questions that you have sent us in IM. Read some of these and think about what you can ask!
I was wondering if you knew of a good place to find overviews of the gay rights movement.
I'm in the library currently. Would it be possible for me to come down to talk with a librarian about a class project I'm working on?
I need some help with finding records of a Senate hearing from 1976.
Hi, I am researching the US foreign policy question of how to best stop illegal drugs from entering the US.
I want to find articles that look at affects of revolutions or regime change on women's movements.
How do I renew everything I have out?
I need to find statistical information on how many people within the US speak a second language.
Hi, I was wondering if you could help me find scholarly articles on the prestige of lawyers, doctors and scientists and/or an article addressing why scientists are underappreciated.
Hello, I am doing a project on a Supreme Court case and I was wondering where are some good databases to look.
I am curious if the library has a database where I can lookup historical speeches of world leaders?
How do i reserve a study room?
Hey so I'm doing a research paper and I found an abstract on EBSCOhost I'd like to look at. How do I get a full copy or page range of the article?
Hey. I am doing a research project on Charles Manson and my topic focus is why society has such a fascination with this guy. So many people have written books about him and I even found a few fan club websites about him. I have no clue how to begin my search using the databases. Could you maybe give me an idea of what words to type in?
The library allows students to borrow video cameras, but I'm not sure where to find this information on the library's website. Could you tell me where to find this page?
Dear wisest man/woman: could you please tell me what should I do if I want to find specific company information in the Wall Street Journal?